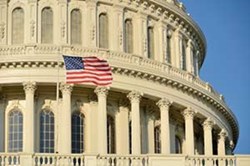 President Obama's astrological chart is getting seriously beat up which means the shutdown will not be resolved for a few weeks.
Langhorne, PA (PRWEB) October 08, 2013
It's been a week already, and it's anyone's guess how much longer the government shutdown will last. Newspapers and websites have resorted to surveying the public: The Washington Post website reported on October 6th, "On average readers thought the government shutdown would last 17 days." That's a little less than three weeks.
What if we asked a segment of the public with potentially high predictive abilities, namely, the professional psychics at Hollywood Psychics, the popular psychic services provider? Turns out the psychics' predictions, as reflected in a survey conducted on October 4th, are more or less in agreement with those of the general public, or at least the Post's readership. Of the 142 psychics surveyed, 60% predicted the shutdown would last more than two weeks.
"President Obama's astro chart is getting seriously beat up," said psychic Serena, who predicted the shutdown would last 2-3 weeks. Psychic Jinn, who gave the same prediction, tried to lighten the mood with the declaration: "Don't take it too seriously; it's only the government!" while psychic Kitty, who also foresaw a 2-3 week shutdown, summarized a generalized feeling of disgust with the situation when she said: "I want to move to Canada."
Looking ahead, the psychics were a bit more optimistic. Sixty-five percent of those surveyed predicted that Congress would raise the debt ceiling, avoiding the doomsday scenarios that pundits and politicians have been warning about. "There will be a sense of freedom and relief that comes with this decision," predicted psychic Ava. To which we can only say: Amen!
About Hollywood Psychics:
Hollywood Psychics is an established provider of psychic readings by phone and online chat, appealing to a young professional demographic. Hollywood Psychics experts specialize in astrology, horoscopes, numerology, tarot cards, clairvoyant readings, and many other psychic disciplines. Hollywood Psychics believes in its community of authentic psychics and stands behind the authentic psychic readings they deliver to clients. Visit them online at http://www.hollywoodpsychics.com.
For more information, contact:
Maryanne Fiedler, Marketing Director
maryanne(at)hollywoodpsychics(at)com
215-953-8568