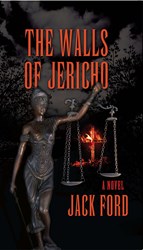 New York, NY (PRWEB) October 15, 2013
Welcome to the world of unsolved murder, explosive politics, and shocking betrayal. Emmy and Peabody Award-winning journalist Jack Ford's new thriller, The Walls of Jericho, explores an unsolved Civil Rights-era murder in the present-day landscape of power politics and carefully contrived reputations. Amid doubt, danger, and frustration, an Ole Miss professor and a New York Times reporter put their reputations, careers, and very lives on the line in search of the truth, the whole truth, and nothing but the truth.
Jefferson Trannon is an Ole Miss law professor who has lived his entire life in the shadow of his famous father. Ella Garrity, raised in the Mississippi Delta, is an ambitious journalist, seeking to escape from her own shadows. When a career criminal comes forward, claiming to know the secrets behind a decades-old Civil Rights murder, Jeff and Ella have to decide how much they are willing to sacrifice for the truth. Set in and around the cities and cotton fields of Mississippi, The Walls of Jericho explores a hospitable, gentile Southern society whose long-buried murderous mysteries threaten to shatter its very foundations.
Jack Ford, with his illustrious background as a famed legal journalist, prominent trial attorney, and dynamic college professor, is the ideal man to tell such a story. The Walls of Jericho is full of the expert, exclusive knowledge of the shifting worlds of politics, law, and history that only Ford, with his extensive expertise, could provide. A thrilling tale of murder, treachery, a high-stakes investigation, and a sensational trial, The Walls of Jericho results in an unforeseeable, devastating, and ultimately redemptive conclusion.