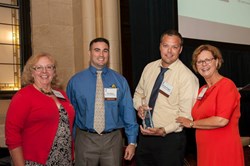 Strong business ethics start at the top and trickle down throughout a company.
Glen Burnie, MD (PRWEB) October 09, 2013
Nu Look Home Design Roofing Company, one of Maryland's leading roofing companies, today announced they have been recognized by The Better Business Bureau serving Greater Maryland Chapter.
The award isn't limited to Maryland roofing contractors; all types of businesses are invited to apply for this award that included BBB Accredited Businesses and those that are not accredited with the BBB as long as they maintain a satisfactory report with the BBB. These awards are given each year to companies that prove time and time again that customer service, integrity, and marketplace ethics are the first and foremost priority in running that business.
When the BBB announced a Business Ethics contest for the greater Maryland area, it just seemed a natural fit that Nu Look would enter. Nu Look Home Designs owner, Patrick Fingles, is a person of high integrity, and has successfully grown the company based on the ethical treatment of customers in a market that was not always accustomed to that kind of treatment. Nu Look was built with ethics in mind. At inception, the purpose of this company was to deliver higher quality replacement windows, roofing, products and service. As a young company, good business ethics are more of an idea than a standard. Making mistakes and finding weaknesses in your business is part of growing. Making changes to address those concerns turns ethics from an idea into a standard. We're not saying a young business cannot have strong ethics; we're simply saying that your ethical standard should grow stronger with age. Even though our company is over a decade old, we still make changes to attain a higher standard of ethics every day.
Strong business ethics start at the top and trickle down throughout a company. Patrick Fingles had a simple idea to deliver better quality products and service to his customers. Achieving this seems simple. Buy good products and install them properly. Not so simple. It's more like, "Buy good products, show up on time, install them perfectly, don't step on the flowers and allow the customer to pay you in four weeks". This may sound like a picky customer, but I assure you it is, in fact, the want and right of every customer. So, very early in business, Patrick determined that achieving customer satisfaction takes much more than using high quality products with excellent service; it's all of the little things in between.
During the award ceremony Patrick Fingles didn't take credit for this accomplishment, instead he gave all the credit to his employees saying "I've always believed that happy people have the ability to achieve extraordinary things. In addition, in the business world, happy employees equal happy clients, and that's not just good for business, it's good for personal well-being, too. Call it the Happiness Effect".