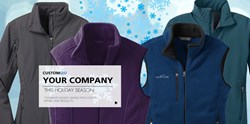 Chicago, IL (PRWEB) October 08, 2013
Izo prepares for the holidays with custom gifting solutions. For corporate gifts and company events, giving customized gifts is an effective way to personalize the holidays for clients and employees without breaking the bank or allocating too much time to purchasing. Additionally, the holidays are a great opportunity to get into the spirit of the season and give back with Izo's online fundraising platform, Groupizo.
No company wants to devote a lot of resources towards gift purchasing, but it's important to communicate value to employees and clients alike, especially during the holidays. For employees, bonuses and extras are an expected part of the calendar year's end, and perks for top clients aid in retention. Personalized gifts designed online from Customizo such as fleece vests, and jackets, soft shell jackets, and quarter zip pullovers hit the mark for a custom blend of practicality, cost, and demonstrable end use.
Custom apparel from leading brands like Eddie Bauer, First Ascent, Nike, Adidas and Reebok has broad appeal and can be individually personalized with the recipients name as well as the company logo. Embroidered tote bags, logoed blankets, and fleece beanies also make good holiday gifts. Izo's Black Friday and Cyber Monday deals present an excellent opportunity to save this holiday season - as all customized products are offered at 15% off sitewide.
For companies that traditionally make a holiday donation to a charity, Groupizo provides an efficient, effortless way to inspire contributions to the fund. Participants in giving can order customized apparel from a Groupizo group, with 100% of the profits from the sale going towards the chosen charity. The custom apparel can be holiday themed, for the season, be connected to the featured cause, display co-branding with the non profit and for profit entities, or all three.
Groupizo makes socially conscious gifting easy - the gifter donates to a good cause, and can give a physical item along with the story of giving to the recipient. For instance, custom items from a Groupizo group raising funds to support The Alzheimer's Foundation would make an excellent gift for someone to whom this cause is important - they can visibly support Alzheimer's research with their custom apparel or products while knowing that part of the gift was a charitable donation as well.
About Customizo and Izo Brands
With Customizo, Groupizo and Snapizo, Izo is knitting the framework for the future of e-commerce with a multi-faceted set of innovative product customization and design tools, a unique group collaboration interface, and mobile media distribution applications. Izo's mission is to be the most customer-centric, creative, and innovative company in the custom apparel and promotional products industries.