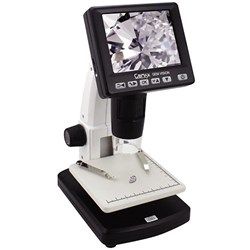 Our seasoned experts are constantly searching the globe for the latest innovations and best value for our esteemed clients.
Plainview, New York (PRWEB) October 15, 2013
In order for jewelers and gemologists to properly identify the authenticity of diamonds and gemstones, they need access to innovative equipment.
Thanks to Kassoy, well-known distributor of Jeweler's Supplies and gemological equipment, jewelers and gemologists worldwide have access to their line of quality microscopes.
According to Joanne Slawitsky, CEO "Our seasoned experts are constantly searching the globe for the latest innovations and best value for our esteemed clients."
Kassoy's microscopes come in a variety of models, ranging from the Gemax Gemvision LCD Microscope to the HD Camera Microscope.
Gemax Gemvision LCD Microscope: Kassoy's new digital microscope allows users to view hearts and arrows, internal features, and girdle inscriptions, and capture them for their clients on the Internet or face-to-face. It's 3.5" LCD display with 5 megapixel image and 10–500x magnification has a zoom feature.
It supports MicroSD card slot for still and video imaging and has a TV output and an 8-LED light source. Designed with jewelry dealers and appraisers in mind, this microscope comes with a convenience rechargeable lithium battery and adapter.
HD Camera Microscope: Kassoy has updated its popular stereo zoom microscope with a higher-quality 1080p HD camera, making it even more effective for appraisals, demonstrations and grading. It has USB output for image transfer and a 4GB SD card for image capture.
The specs include 10x/22mm eyepieces, 8x–35x zoom, 0.8x–3.5x objectives, and a 1080p HD camera. It also has a remote control for image capture and to adjust camera settings. The light sources of the HD camera microscope include LED reflected & LED transmitted with a iris diaphragm and adjustable darkfield condenser.
Kassoy's 8x–50x Stereo Zoom Microscope: This 9 ½" x 11" x 18–22" gemological microscope is an industry standard and offers the following fine features: 8x to 50x magnification, LED light guide, tungsten-halogen darkfield, and fluorescent overhead. It's also built on Kassoy's exclusive deluxe gemological base.
About Kassoy LLC
Kassoy LLC has been catering to the needs of jewelers, craftsmen, appraisers, and other experts for more than 75 years. Kassoy's headquarters are located in Plainview, New York and their showroom is located in New York City. Kassoy is considered the choice of gemologists and jewelers nationally.
To find out more information about Kassoy's quality microscopes, visit the website at: http://www.kassoy.com.
Contact Information:
Headquarters
101 Commercial Street
Suite 200
Plainview, NY 11803
1-800-452-7769
sales(at)kassoy(dot)com
Manhattan Showroom
28 W. 47th Street
New York, NY 10036
1-212-719-2291
showroom(at)kassoy(dot)com