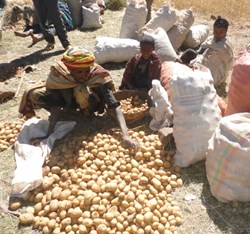 Some farmers have more than doubled their harvest and income, decreasing their need for food distributions.
Phoenix, AZ (PRWEB) October 09, 2013
Food for the Hungry (FH) taught Ethiopians farming skills to bring relief to thousands of the 2.48 million Ethiopians facing acute food insecurity this year. Through partnerships with USAID, FH created sustainable food systems through innovative solutions.
In Ethiopia's Amhara region, FH staff identified several factors contributing to food instability, such as crop failure, dangerous traveling conditions and vulnerable farming areas. To address these problems, FH created stable environments for growing and transporting food, such as building bridges across fast-moving rivers.
"Ephrata River in Tach Gayint was very dangerous...it takes away human life, pack animals and other resources," says Dejene Asmare, a resident of Ephrata. "(these problems) will be historical after the construction of this bridge over this river."
Other programs addressed choice of crops, such as planting drought and disease resistant potatoes. FH taught planting and watering techniques to improve harvesting, increasing planting season from two to three. Ethiopians learned how to terrace farming areas to prevent soil erosion during the rainy season. Using these new farming methods, some Ethiopian farmers have harvested 2.6 metric tons of potatoes, selling 2 metric tons for $352. Some farmers have more than doubled their harvest and income, decreasing their need for food distributions.
Additional programs included chicken farming, growing apple orchards and building wells. Through these projects, Ethiopians learned to nurture several high-yielding food systems to overcome food insecurity. With many Ethiopians finding hope and an end to hunger, FH joins the United Nations in celebrating this year's theme of sustainable food systems on World Food Day on October 16.
Founded in 1971, Food for the Hungry provides emergency relief and long-term development programs with operations in more than 20 countries to help the world's most vulnerable people. Learn more by visiting http://www.fh.org. Social connections include http://www.facebook.com/foodforthehungry and http://www.twitter.com/food4thehungry.