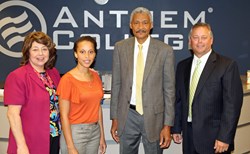 ATLANTA, Ga. (PRWEB) October 07, 2013
Dr. Patric Rutherford, CEO of Jamaica-based Andrews Memorial Hospital (AMH), recently visited Anthem College-Atlanta, a career-focused school offering diploma and associate's degree programs in the healthcare-related field, for the receipt of four operating room beds and medical equipment.
During his visit at Anthem College-Atlanta, where Dr. Rutherford received the school's donations which will help enable enhanced patient care at AMH, he had the opportunity to tour the 43,757 square-foot campus featuring well-equipped classrooms and learning labs with modern technology, surgical room equipment and instruments, medical equipment and computers.
"It was heartwarming to walk the halls of Anthem College and see the layout of the facility and thoughtful systems geared for effectiveness in the teaching and learning process," said Dr. Rutherford. "But even more impressive were the gracious and warm welcomes I received from the staff at Anthem College and gifts I received for Andrews Memorial Hospital, which will go a long way in empowering our hospital to relieve suffering in a caring environment. They will allow us to help enhance the lives of those we serve in Jamaica, and we pray God's blessing on Anthem College that your labor of love will continue to enrich the lives of your students through whom you transform your community."
AMH, located in the city of Kingston and owned and operated by the Seventh-day Adventist Church, was founded in 1944 by an international team of missionaries as the first private hospital to open an Intensive Care Unit in Jamaica.
Among those from Anthem College-Atlanta who welcomed Dr. Rutherford, who holds a Ph.D. in education administration, were Executive Director Greg Koch, Dean of Education Debra Rasouliyan and Surgical Technology program head Melissa Jean-Louis.
"We're so happy to be able to help Dr. Rutherford and Andrews Memorial Hospital and support its mission to offer world class healthcare services," said Jean-Louis. "We hope to continue to help them in their journey to create hospitals of the future for Jamaica."
Founded in 2010, Anthem College-Atlanta holds institutional accreditation from the Accrediting Council for Independent Colleges and Schools to offer diploma programs in health information technology and medical assisting, and associate of applied science degree programs in dental assisting, health information technology, medical assisting and surgical technology.
Anthem College-Atlanta is located at 2450 Piedmont Rd. NE between Morosgo Dr. and Main St. near the Lindbergh Center Station. For more information about programs and services offered at the campus, call 888-852-7272. Visit Anthem.edu or Facebook.com/AnthemCollegeAtlanta.
###