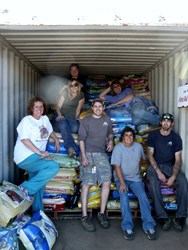 (PRWEB) October 08, 2013
Catastrophic flooding in Colorado has taken the lives of at least five people, and has destroyed as many as 1,500 homes, leaving just under 18,000 other homes heavily damaged. There are still approximately 1,200 people who have not yet been accounted for, not to mention the thousands of missing dogs, cats, and other pets. The flooded areas seem to be getting a little reprieve with a few drier days, but the battle to restore some semblance of order is an ongoing effort, requiring help from state and federal government, as well as charitable donations and aid.
For this reason, PetFlow.com waived all shipping fees on any orders to an animal shelter in one of the hardest hit areas in Colorado that desperately needed pet care supplies, cat and dog food, and more. Our fantastic, caring customers sent nearly 1,000 orders of treats, food, and toys to the Weld County Humane Society located in Evans, Colorado. By offering free shipping on pet products to this shelter, which cares for over 300 animals, PetFlow.com worked with our customers to ensure all these animals will feel safe, warm, and well-fed while they wait for a chance to reconnect with their owners.
It's in times of unforeseen disaster that pet owners who truly consider their animals as part of the family despair—not knowing where their cats and dogs are can be very emotionally taxing, especially for the children of these families. PetFlow.com is dedicated to diminishing the stress during this very tough time with the sincere hope that all pets make their way back home. Until they do, PetFlow.com and our wonderful customers are doing our part to help displaced pets across the areas of Colorado devastated by record-breaking floods.
For more information about the waived shipping fees for the Weld County Humane Society, please visit PetFlow.com or call 1-888-316-7297.