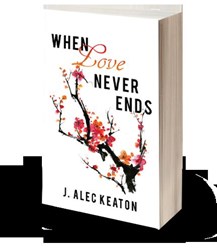 Honolulu, HI (PRWEB) October 22, 2013
Sam has never gotten over his one true love. He walked away from Sara, amidst racist threats from her bigoted father. Sam and Sara went their separate ways: Sara got married, and Sam threw himself into work, becoming a very successful lawyer for a prestigious law firm. Yet still, Sam cannot fill the Sara-shaped hole in his heart: if he could live that moment all over again, he would have never walked away.
When Love Never Ends intertwines Sam's existence with the life of a grief-ridden college professor. Dr. Jeremiah Ebenezer Pike lost his wife four years ago. Ever since, he's been obsessed with the concept of time travel, laboring over theories and experiments for years. Sam meets up with him now and again, hoping to help him move on and give up his ridiculous fantasies.
Over a decade later, Sam and Sara meet again, as Sara seeks legal help. They spend three whirlwind days together. Their future together starts to look promising, but then Sara's jealous husband gets in the way, irrevocably separating the two with a single gunshot. Wild with grief, Sam goes to Dr. Pike, desperate for some way, any way, to see Sara again. Nothing is too wild for his desperation. Not even time travel.
Though it at first seems the story of an ordinary love under ordinary, if pressing, circumstances, When Love Never Ends soon reveals itself to be an intoxicating mix of romance and science fiction — a combination that promises to be anything but ordinary. Flawlessly documenting the seemingly unrelated worlds of law, love, and loss, When Love Never Ends is as much a narrative of human experience as it is a story of love.
About the Author
J. Alec Keaton is a graduate of Beloit University with a Bachelor of Science degree in Biochemistry. After graduation from the Medical College of Wisconsin, Alec did residency in Family Practice Medicine at the University of Washington Medical Center. Presently, Alec is working for a Medical group in Seattle.