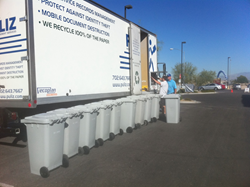 One Nevada President Brad Beal comments, 'We are looking forward to giving our members and the community the opportunity to dispose of confidential documents for free, while protecting them from possible identity theft.'
Las Vegas, NV (PRWEB) April 16, 2014
Click to Tweet: http://ctt.ec/8s560 One Nevada Credit Union and Better Business Bureau of Southern Nevada Host a Free, Community Shred Day April 26. Find out more here: http://ctt.ec/ZR05Q+.
One Nevada Credit Union is pleased to announce its Spring Shred & Recycle event and food drive in partnership with the Better Business Bureau of Southern Nevada, Inc. This free, community-wide event raises awareness about identity theft while giving back to the community by collecting donations for Three Square, a local nonprofit.
The event will be held on Saturday, April 26 from 9:00 a.m. -1:00 p.m. at the Better Business Bureau 6040 S. Jones Blvd, Las Vegas NV 89118.
Puliz Records Management Services will be on-site to safely and properly shred personal documents, magazines and cardboard. E-waste including old cell phones plus computers, printers, plastic, aluminum, wood and metal can also be dropped off for destruction off site. No food or bio–hazardous waste.
In addition, ONCU and the BBB have partnered with the local nonprofit organization Three Square to collect non-perishable food items or cash donations. Visit threesquare.org for a list of items at the top of their wish list.
Members and nonmembers are encouraged to bring up to ten boxes or bags of personal documents or e-waste. ($10 for each additional box/bag.)
One Nevada President Brad Beal comments, "We are looking forward to giving our members and the community the opportunity to dispose of confidential documents for free, while protecting them from the possibility of identify theft. As an accredited business, we are proud to be partnering with the BBB. This joint event should give the community even more peace of mind as they dispose of personal documents safely with two names they can trust."
Background information:
With $720 million in assets, One Nevada Credit Union is the largest locally owned, federally insured Credit Union in the state. It is one of the strongest, well-capitalized credit unions in the country with more 10.4% net worth. One Nevada has 15 branches and over 60 ATMs and serves over 75,00 members. Membership is open to all residents of Clark County, Washoe County and Nye County. The National Credit Union Administration, a U.S. Government Agency, insures member deposits at One Nevada. For more information, visit https://www.onenevada.org.