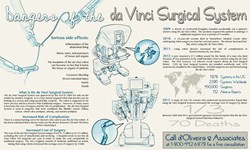 (PRWEB) October 16, 2013
According to a September 22, 2013 Star Tribune article medical device manufacturers are required to report device-related serious injuries and deaths to the FDA within 30 days of learning about the incident. The article also provides the story of Erin Izumi, a patient who suffered serious robot surgery injuries. Her colon and rectum had been torn during surgery and she was hospitalized for five weeks. Her incident was never reported to the FDA (i). A new study has found that the problem of underreporting robot surgery injuries has occurred in other cases. On August 27, 2013, the Journal for Healthcare Quality published the study which investigated the robot surgery complications reported to the FDA over a 12-year period. The researchers obtained these reports from the FDA MAUDE database and cross-referenced them with cases on LexisNexis and Public Access to Court Electronic Records (PACER). The results of the study show that during the 12-year period 245 incidents were reported including 174 nonfatal injuries and 71 deaths. After cross-referencing cases, the researchers found that eight cases were not reported properly. Five cases were never reported and three cases where months after the incident occurred. The researchers emphasized that accurate reporting is important "to ensure continued safe innovation" (i).
Attorney Paul d'Oliveira stated, "Medical decisions should be made by patients with the help of their doctors. In my opinion, medical device manufacturers have improperly thrust themselves into this conversation by creating unnecessary pressure on patients and doctors. Medical device advertising directed at patients oftentimes gives them an incomplete picture of the true benefits and risks of a procedure. This in turn can pressure doctors who may not feel comfortable using a surgery robot but grant the patient's request rather than risk losing him or her."
Patients who believe that they have been injured by a da Vinci Surgery Robot should talk to a personal injury lawyer about their options. d'Oliveira & Associates is looking into these cases and the attorneys at the law firm are ready to assist victims in protecting their legal rights. The firm also works with some of the more experienced da Vinci Robot lawyers, who handle lawsuits, and there are no legal fees until a settlement or award is obtained. To contact the firm call 1-800-992-6878 or submit a contact form online.
(i) Star Tribune, September 22, 2013.
m.startribune.com/news/?id=224644101