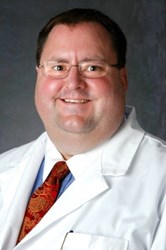 Lawrenceville, GA (PRWEB) October 08, 2013
Gwinnett Medical Center (GMC) has announced the hiring of Kevin Johnson, M.D., FAAFP as the director of family medicine residency for the Graduate Medical Education Program. Dr. Johnson's primary role is to develop the residency teaching program which will transform physicians who have graduated medical school into board certified family physicians.
Dr. Johnson will guide the development of a robust curriculum highlighting the diverse medical specialties covered by family medicine. In June of 2014, the first class of five future family physicians will start their three-year residency.
According to Phil Wolfe, GMC's president and CEO, the program will help address the current shortage of physicians in family medicine and internal medicine in the north metro community. The program is supported by GMC's Board of Directors, Georgia Board of Regents, Georgia Physicians Task Force and The Philadelphia College of Osteopathic Medicine which has endorsed the medical center's commitment with grant funding.
"As a physician who practiced in rural America, Dr. Johnson understands the complex nature of family medicine and the wide skill set needed," said Mark Darrow, M.D., director of GMC's Graduate Medical Education. "He will educate the resident physicians about the care of every member of the family and they will get the opportunity to develop and manage a practice of their own while in training."
Dr. Johnson's clinical practice encompasses the entire age spectrum, including maternity care, infants and children, geriatrics, inpatient medicine, and wellness care. He also served as a hospitalist in the Department of Medicine at Womack Army Medical Center in Ft. Bragg, NC, and is a diplomat of the American Board of Family Medicine with a certificate of added qualification in hospice and palliative medicine.
Dr. Johnson brings expertise in family medicine education from Wilmington, NC, where he was assistant program director for the New Hanover Regional Medical Center Family Medicine Residency Program. He has also completed a fellowship in family medicine faculty development at the University of North Carolina at Chapel Hill, with focused education on curriculum development and primary care research.
Leaders are hopeful an internal medicine program will be introduced in the future.
About Gwinnett Medical Center
Gwinnett Medical Center is a nationally-recognized, not-for-profit healthcare network with acute-care hospitals in Lawrenceville and Duluth. Offering cardiovascular, orthopedic and neuroscience specialty care as well as a full continuum of wellness services, GMC's 4,500 associates and 800 affiliated physicians serve more than 400,000 patients annually. To learn more about how GMC is transforming healthcare, visit gwinnettmedicalcenter.org or follow us at facebook.com/gwinnettmedical, twitter.com/gwinnettmedical or youtube.com/gwinnettmedical.