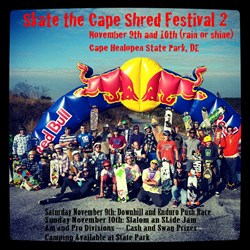 Cape Henlopen, DE (PRWEB) October 09, 2013
Faceplant Boardriders longboard skateboard company, WheelRZ longboard wheel company, and Liquid Boardshop of Rehoboth Beach, DE are hosting another major longboarding event in the Mid-Atlantic Region. After a successful first year holding 'Skate the Cape Shred Festival' at the scenic Cape Henlopen State Park in Delaware, Faceplant/WheelRZ in association with Liquid Boardshop were granted permission to make their second annual 'Skate the Cape Shred Festival' a two day event this year. The dates of the event are November 9-10 and will feature an Enduro Push Race along with the Downhill Race on Saturday, and Sunday will be the Slalom Race and the Slide Jam. The event is set to take place rain or shine.
Faceplant Boardriders and WheelRZ Owner Ricky Wheeler stated, "We really want to make this event a 'festival of longboarding', something that will bring the longboarding community together and also get more people interested in longboarding, and we feel a two day event would be able to make this happen." There will be on site camping available for the event so riders and spectators can come from all over and spend their whole weekend at the event location. There are also many hotels nearby the event location as well as some hotels neighboring Liquid Boardshop and the Big Chill Surf Cantina where the after parties will be taking place.
Faceplant Boardriders/WheelRZ have already hosted 2 successful longboarding events this year. 'Skate for Peace' was a charity event held at the KidsPeace Campus in May this year and the recent 'Rip the ElWood' was an event based on longboarding progression with downhill time trials and a slide jam. FB/WheelRZ is a company that thrives on pushing the progression of the sport as well as doing everything they can to get people riding longboards, and the 'Skate the Cape Shred Festival 2' is another event that is designed to push the progression of every longboarder out there.
"The Enduro Push Race is a new addition to the Skate the Cape this year. FB/WheelRZ Owner Rob Wheeler said, "The course for the Enduro Push Race is a 2.75 mile course full of uphills, downhills, twists, and turns that go all around the park and will test a riders skills to the fullest." The Downhill Race will test riders' skills with a hard right in the course that is sure to see some wipeouts. The slalom and slide will be on the main hill at Fort Miles just like last years events, but with a few additions to the mix. There will be plenty of prizes for all divisions and cash prizes for the Open divisions.
The stage is set, and "Skate the Cape Shred Festival 2" is lining up to be another amazing event from Faceplant Boardriders/WheelRZ. Their events keep growing in size, and for good reason. Riders say their events are always highly organized, well thought out, and most importantly, fun for everyone involved. Faceplant/WheelRZ go through a lot of trouble making sure their events are safe and fun. They are great at picking out unique features at locations and being creative to turn them into an awesome event setting. Wathc last years official event video at http://www.youtube.com/watch?v=wfmQcSC07Dg.
Get all of the event details at the facebook event page at https://www.facebook.com/events/205725982937745/.