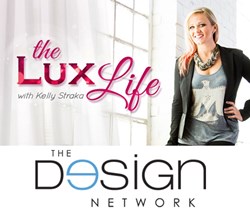 Kelly's well-rounded and diverse involvement in acquisitions and development, combined with her energetic style and high-profile clientele, bring a fresh perspective to home design and fashion.
Jamestown, NC (PRWEB) October 08, 2013
The Design Network welcomes interior designer and founder of Lux-Living, Kelly Straka, whose new video series 'The Lux Life' launches on TDN October 8, 2013.
Known to her crew as "boss lady," Kelly Straka is a young, talented interior designer who works closely with high-profile clients including professional athletes and top real estate developers throughout the country. Since beginning the Philadelphia-based design company Lux-Living in 2010, Kelly and her team have transformed properties throughout Philadelphia and the surrounding suburban areas into incredibly desirable and luxurious living spaces. Their ability to convert "average" homes to LUX properties has allowed Lux-Living's clients to gain the best possible return on their investments or finally live in the dream home they've always wanted. Straka's new Design Network series takes viewers behind the scenes with Kelly and her team as they work together to create the ultimate LUX LIFE.
"Kelly brings a dynamic background to The Design Network as an interior designer and business savvy real estate professional," observes TDN Founder, Jason Harris. "Her well-rounded and diverse involvement in acquisitions and development, combined with her energetic style and high-profile clientele, bring a fresh perspective to home design and fashion. We're excited to see the type of projects that Kelly and her team tackle this season on The Design Network."
About The Design Network:
Launched in January 2013 by home furnishings industry veterans Jason and Jeff Harris, The Design Network is a broadband, all-screens network that aligns the best designers, architects, furniture purveyors, video producers and home enthusiasts to offer inspirational, instructional and entertaining videos about home design and fashion. By serving on-demand content in a new, relevant and fresh way, and reaching home enthusiasts through a multitude of screens, anywhere at any time, the Design Network is an entertaining resource for design inspiration, expert advice and product information, as well as a growing, vibrant community built on a shared passion for all things "home."