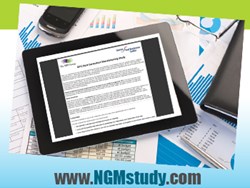 The real challenge before us, manufacturing and economic develop leaders alike, is to focus on closing this execution gap so we can remain competitive.
Peoria, Illinois (PRWEB) October 08, 2013
On October 4, 2013 the American Small Manufacturers Coalition (ASMC), in conjunction with Manufacturing Day, released a summary of its results from the 2013 Next Generation Manufacturing (NGM) Study. The NGM Study measures manufacturers' readiness, support systems and resources, and performance in six key strategic areas necessary for world-class manufacturing and future success.
The data shows that manufacturing organizations that achieve world-class status in at least two of the NGM strategies and maintain industry-average levels in the other four areas are in the best position for long-term survival.
However, the 2013 data also finds that most of these manufacturers – successful as they are today – aren't investing in the strategies that will carry their firms into tomorrow.
"The study data identifies an enormous execution gap – the difference between the numbers of firms that recognize the importance of a particular NGM strategy, and the number that comes close to or that achieved world-class status in that strategy," said John Brandt, Founder & CEO of MPI.
For example, the study found:

90% of manufacturers believe superior process improvement is important, whereas only 44% of those manufacturers are near or currently at world-class status in process improvements.
While human capital management is an issue, NGM data suggests few manufacturers are taking initiative to address talent shortages: 69% of manufacturing executives have the leadership and talent to drive world-class customer-focused innovation, but only 37% have talent development programs to support world-class customer-focused innovation.
Most manufacturers have the tools, technologies and business equipment they need today, but those tools won't meet the needs of the future. Only 11% of manufacturers describe their tools and business equipment as "state-of-the-art" and capable of providing long-term support for world-class supply-chain management.
33% of manufacturing executives anticipate a planned leadership succession in the next five years, and another 28% of executives indicate a succession may occur.
"Given the global competitive landscape and constant change through technology, it is no surprise that the Next Generation Manufacturing highlights that small and medium-sized manufacturers must continue to transform in order to remain competitive," according to David Boulay, IMEC President. "The real challenge before us, manufacturing and economic develop leaders alike, is to focus on closing this execution gap so we can remain competitive."
In Illinois, Beall Manufacturing has focused on the "sustainability" strategy and found that by working with IMEC and Ameren ActOnEnergy, they have been able to upgrade two inefficient natural gas furnaces through results from a feasibility study and incentives of the energy program. Beall expects to see about $50,000 in cost savings annually and are also realizing significant environmental benefits in the form of reduced emissions.
The Manufacturing Performance Institute (MPI), part of The MPI Group, conducted this research based on recent survey responses of manufacturing executives. The study, conducted in 2009 and 2011, surveyed U.S. manufacturers nationwide. More information can be found at http://www.smallmanufacturers.org/news.
###
About IMEC: IMEC was established in 1996 with the goal of improving the productivity and competitiveness of Illinois' small and mid-sized manufacturing firms. The organization's mission is to be a catalyst for transforming the state of manufacturing. A non-profit economic development organization, IMEC is funded in part by the National Institute of Standards and Technology's Manufacturing Extension Partnership, the Illinois Department of Commerce and Economic Opportunity, and through fees paid by Illinois manufacturers for IMEC's services. IMEC has 11 offices statewide and 40 full-time manufacturing improvement specialists. For more information, visit http://www.imec.org.
About American Small Manufacturers Coalition (ASMC): ASMC is a trade association of manufacturing extension agents whom work to improve the innovation and productivity of America's manufacturing community. ASMC advocates for legislative and programmatic resources that allow its small manufacturing clients to better compete in the global marketplace. For more information, visit http://www.smallmanufacturers.org/.