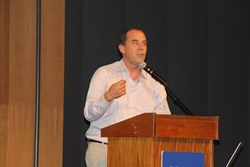 Bouckaert told students that in spite of the danger, he will continue his work with HRW "…because of the commitments we have made to the victims who have entrusted us with their stories. We cannot betray their hope," he said.
Santa Monica, CA (PRWEB) October 07, 2013
Peter Bouckaert, Human Rights Watch's (HRW) Emergencies Director and an expert in humanitarian crises, spoke to a crowded and captivated audience of students and faculty at New Roads School's Moss Theater on October 2nd about HRW's global mission, and the increasingly pivotal role that social media and everyday technology play in the group's systematic investigations and research into human rights abuses. The presentation was part of New Roads School's widely recognized "Workshop" program, a contextual curriculum that investigates a range of social, economic and environmental justice issues, and engages students in developing solutions.
"I can't imagine an individual making a greater impact on our students in the space of an hour than Peter Bouckaert. Hearing his first-hand accounts from the world's most war-torn places, his recounting of personal conversations with victims and the witnesses to their suffering, and his solid determination to remain a symbol of hope for oppressed and abused people the world over was truly transformative for our kids," said Sean Brookes, Workshop teacher for the New Roads Human Rights Watch Student Task Force.
Speaking to an audience of more than 200 student activists from New Roads and other area schools, Mr. Bouckaert explained in detail HRW's methodology for investigating human rights abuses around the world, ranging from traditional on-the-ground interviews and note taking to use of social media, Google Earth and other technologies to gather and analyze data.
Using the example of recent events in Syria, he walked students through how HRW was able to discredit the Syrian governments' claim that opposition groups had been responsible for Sarin gas attacks in Eastern and Western Ghouta by analyzing publicly posted YouTube videos from the attacked areas as well as higher-resolution images of weapon remnants provided electronically by a local activist in Eastern Ghouta, and combining these pieces of evidence with the mapping capabilities of Google Earth. Bouckaert's message to students was clear: social media and technology are powerful fact-finding tools, helping to bring atrocities and the truth about who commits them to light.
Bouckaert emphasized that even with these new and highly effective tools, the 'low-tech' aspects of HRW's on the ground research process -- interviewing victims and witnesses -- remains critical to both fact-finding and the all-important task of keeping the human story front and center. He talked with students about the 80 HRW staffers across the globe who cooperate with civil society activists, lawyers, journalists and other trusted contacts in their permanent bases.
Following Bouckaert's gripping presentation, students asked questions: "How did HRW start?" "What accomplishment are you most proud of in your role with HRW?" "What about human rights issues in the United States?" "How do you continue your work, after seeing such terrible things and losing friends and colleagues to violence? Aren't you afraid?" He told students that in spite of the danger, he will continue his work with HRW, "…because of the commitments we have made to the victims who have entrusted us with their stories. We cannot betray them," he said. "We cannot betray their hope."
About New Roads School
New Roads School is an innovative, fully-accredited K-12 independent school serving more than 650 students on campuses in West Los Angeles (grades K-5) and Santa Monica (grades 6-12), California. New Roads is committed to nurturing the curiosity of each student while delivering top-quality college preparatory education to a student body representing the broad economic and cultural diversity of Greater Los Angeles. To back up that commitment, New Roads devotes approximately 50% of its tuition dollars to need-based financial aid each year.
About Human Rights Watch
Human Rights Watch is a nonprofit, nongovernmental human rights organization made up of roughly 400 staff members around the globe. Its staff consists of human rights professionals including country experts, lawyers, journalists, and academics of diverse backgrounds and nationalities. Established in 1978, Human Rights Watch is known for its accurate fact-finding, impartial reporting, effective use of media, and targeted advocacy, often in partnership with local human rights groups. Each year, Human Rights Watch publishes more than 100 reports and briefings on human rights conditions in some 90 countries, generating extensive coverage in local and international media. With the leverage this brings, Human Rights Watch meets with governments, the United Nations, regional groups like the African Union and the European Union, financial institutions, and corporations to press for changes in policy and practice that promote human rights and justice around the world.
About Peter Bouckaert
A Belgian-born Stanford Law School graduate, specializing in the laws of war, Mr. Bouckaert is responsible for coordinating HRW's response to major wars and other human rights crises, including the recent catastrophic events in Syria. He is a veteran of fact-finding missions to Lebanon, Kosovo, Chechnya, Afghanistan, Iraq, Israel and the Occupied Palestinian Territories, Macedonia, Indonesia, Uganda, Sierra Leone, and many other war zones.