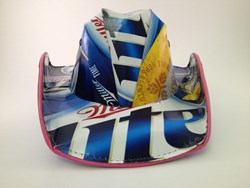 Grand Island, New York (PRWEB) October 07, 2013
October is National Breast Cancer Awareness Month, and Beerhats.com is supporting it by offering pink trim on any of its cowboy-style hats.
Beerhats.com is licensed with Coors Brewing Company, Miller Brewing Company, The Pabst Family of Breweries, and Molson Canada. The hats are constructed using brand new beer cases, purchased directly through the beer companies. Negotiations are happening with other companies for licensing at this time, including Anheuser-Busch and Labatt.
The hats are "one size fits all," as an elastic band put inside each one allows comfort as well. The patterns for the hats are cut from a precision cutting die using a heavy-duty hydraulic press that makes each one the same. The hats are then assembled and sewn together using industrial sewing machines. They are protected by a patent through the U.S. Patent and Trademark Office. Besides the cowboy-style hats, box top hats, top hats, and visors are available as well.
For more information about Beerhats.com, and to browse a selection of styles, visit the website at http://www.beerhats.com, or call 1-877-I-LUV-BEER.
<br>About the Company:<br>BeerHats.com is basically a "Mom and Pop" shop, but they can produce five or 5,000 hats in a very short amount of time depending on specific needs. They take customer service very seriously and will go out of their way to make customers happy with their products and service.
The original idea for BeerHats came up during a country festival in 2002 when the owner's husband witnessed someone with an empty case of beer on his head and he had a "lightbulb" moment. Cyndy loves to hear from people who love the hats and have great stories about them. Don't be shy to share stories and pictures. They might even end up on the website or Facebook page. For more information please visit http://www.beerhats.com.