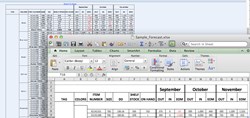 This software retains the speed and ease of use of Excel combined with the power of a database backend. - Josh Coughlin, Enhanced Retail Solutions CTO
New York, NY (PRWEB) October 09, 2013
Enhanced Retail Solutions (ERS), a leading provider of Software-as-a-Service (SaaS) retail analytic and demand planning solutions to suppliers and their retail trading partners, today announced the release of its new Fast Forecast application.
ERS clients have been using its interactive and advanced retail analytic and demand planning tools and consulting services to improve retail and wholesale inventory productivity since 2002.
ERS presently offers an interactive forecasting tool that helps organize and rationalize a company's sku's. It lets one "teach" the system how to automatically adjust the forecast based on events that may affect performance (changing sales trend, new store openings, stores that are above or below minimum presentation standards, etc). The system combines all the data points then applies the business rules and parameters to more accurately estimate sales. The user can also manually adjust any time period.
While many companies require this high level of sophistication and flexibility via a multitude of parameters, others want a more streamlined and quickly generated forecast. That is exactly what Fast Forecast does. A user would simply select their sku's, enter the number of months to project and the desired shelf stock. Sales curves are automatically assigned based upon historical sells or may be selected as well. Wholesale Available to Ship and Incoming Production are automatically ingested into the system. The forecast is done with a press a button. One would press another button to export it to Excel, retaining perfect formatting.
According to Josh Coughlin, Enhanced Retail Solutions CTO, "This software request came from clients who have a good system in Excel but need a means to store and retrieve the variables to speed up the process. This software retains the speed and ease of use of Excel combined with the power of a database backend."
About Enhanced Retail Solutions LLC:
Enhanced Retail Solutions is a New York based software and consulting firm specializing in retail analysis and Demand Planning for the manufacturer and their retail partners. ERS' state of the art software tools and consulting deliver critical data quickly, easily and cost effectively, adding over one hundred million dollars to their clients' bottom line. ERS' broad customer base includes industry leaders in the electronics, consumer products, apparel, footwear, home textile, toy, home décor, home improvement, housewares and food industries. For more information, visit http://www.EnhancedRetailSolutions.com.