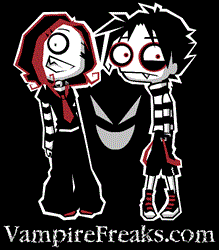 Lovers of the dark aesthetic need an outlet to relate their own experiences.
Brooklyn, New York (PRWEB) October 08, 2013
Since inception, Vampirefreaks has attracted more than 7.3 million members who have all been actively involved in the dark genres of the Goth culture and lifestyle. No longer a sub-culture, the interest in Vampires and other historical monsters spurred Vampirefreaks into creating its own, more relevant creatures of the night that its members and social media fans can identify with. The teen and young-adult Vampire Freaks characters incorporate the same issues and emotional turmoil that Vampirefreaks members are faced with on a daily basis as they navigate life in a contradictory world. The theme of the characters will also be presented in a graphic novel tie-in to the t-shirts, hoodies, tank-tops and other items.
With so many conflicting stories of what a vampire is and does, the company felt it was important to tell the story through its illustrations, that the members have been expressing for almost a decade and a half. Representative of young adult and youth culture, the Vampire Freaks enjoy music, fashion, raves and other aspects that are dealt with in only a passing way with most vampire stories.
"New York Comic-con (NYCC) is an ideal place to present our new line of dark, horror and monster based clothing," says founder Jet Berelson of his decision to introduce all of the characters and the Graphic novel at one of the largest comic conventions in the world. "A large contingent of fans and supporters of our characters will be at NYCC, and new, open-minded horror and dark storyline fans will be on hand to give us feedback and help build the awareness of just what it takes to be a young-adult vampire without any guidance from any elders (not wanting to give away to much of the storyline, we'll leave more details for the show)," Berelson says.
With almost 30 designs, the line will have over 150 items to choose from in sizes XS through to XXL that will be moderately priced. New designs are being commissioned on a monthly basis and that means new characters will be added to the storyline of the graphic novel as well.
About Vampirefreaks.com
Vampirefreaks (VF) was founded over 13 years ago by software engineer and computer programmer, Jet Berelson. The initial effort was simply to create a safe place for Goth's of all kinds to interact with each other without the judgment from normals. By adding profiles of over 12,500 musicians and bands that serve the Goth nation, fans, users and supporters of the site grew it to over 7.3 million people and helped it establish a site offering a wide array of dark Gothic clothing, gifts, toys and accessories to satisfy the fashion, make-up and Goth lifestyle oriented needs of the community.