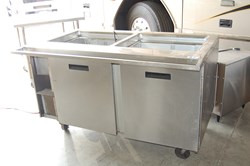 We had wonderful success with the online auction and the seller is very happy.
Columbus, Ohio (PRWEB) October 08, 2013
Gryphon Auction Group of Columbus, Ohio yesterday completed an auction for a central Ohio Qdoba franchisee to auction off excess assets created when some of locations were re-fixtured. The auction, conducted completely online, ended October 2, 2013.
"We had wonderful success with the online auction and the seller is very happy" stated Richard Kruse, President of Gryphon Auction Group.
The 167 individual items gained the attention of over 6,000 individuals who scanned the inventory online. Eventually 78 people took part in the auction event and generated 2148 individual bids on the assets.
Utilizing the Online Auction method, the assets, located in Columbus, Ohio, received national attention and registered bidders from New York, Pennsylvania, Virginia, Florida, Illinois, Indiana as well as from around Ohio.
What was the total dollar amount recovered? Only the auction firm and owner know.
Gryphon has set up a charitable giving program for the Auction Group and will donate 20% of the fees paid by the client to the CenterPoint Paper Pantry, an group who provides people in need with supplies not covered by the Ohio Direction Card (food stamps).
About Us
Gryphon Auction Group, a division of Gryphon USA, Ltd., was formed in 2003 to provide asset recovery and auction services to the legal, banking and business community.
Today, Gryphon is one of a handful of liquidators who has combined the benefits of traditional liquidation techniques with the power of the internet to create a liquidation model which is fast, affordable, flexible, efficient and astoundingly effective. Gryphon Auction Group and OnlineAuctionUSA.com is one of the top internet-only auction sites in terms of traffic, registered bidders, e-newsletter subscriptions, hits, visitors, sales per year and items sold.