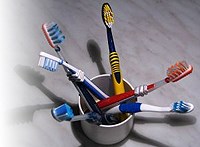 A brush should not be too large for the mouth as it reduces the ability to properly clean.
Mississauga, Ontario (PRWEB) October 09, 2013
When someone goes down the oral health isle of their local pharmacy, twenty minutes later they're probably still deciding on what is the right tooth brush for their pearly whites. Picking out a new toothbrush can be like picking out a new car. There are so many different makes and models to chose from that it can be overwhelming. Big or small? Soft bristles or hard? Oscillating, angled, .99 cents or $99?
Dr. Mirjan's dental hygiene program highlights a few important facts:
A soft touch
Many people may think they're cleaning their teeth better when using hard bristle tooth brush. The reality is a hard bristle brush may permanently erode tooth enamel which can lead to sensitivity and even cavities. Hard bristles can also hurt the gums causing dental issues such as root canals, receding gum and tooth extractions!
Size matters
The toothbrush head should be able to clean one to two teeth at a time. A brush should not be too large for the mouth as it reduces the ability to properly clean. This is especially important for children. It is important to find a brush that they can manage with ease; there are some great kids' brushes available that play music for two minutes so they know how long to brush!
Manual or electric?
Most may think that an electric toothbrush is superior to a manual one. However, there's been numerous studies that found, overall, there isn't a significant difference between manual or electric toothbrushes in their ability to clean teeth and remove plaque. Technique and duration (at least two minutes twice a day) is far more important than if it's powered or manual.
Time to move on?
A toothbrush really does have a shelf life. A good rule of thumb is to replace the brush (or the toothbrush head for powered brushes) every three months. Worn out bristles are a clear sign that it's time to part ways; it's also important to get a new brush after an illness. Patients can also consider bringing their toothbrush to their next dental appointment! The dentist can help assess if it's the right fit for the patient and even double check the technique to make sure the patient is getting the most out of brushing.
"Dr. Mirjan, of Mississauga, Ontario is an experienced dentist in family and cosmetic dentistry. Offering high quality, full service, oral health care serving west Mississauga, east Oakville and Milton. Contact Dr. Mirjan's Mississauga dental office for questions about proper brushing techniques and dental health."