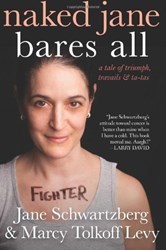 Newark, NJ (PRWEB) October 08, 2013
In her new book, "Naked Jane Bares All: A Tale of Triumph, Travails & Ta-Tas," co-authored with Marcy Tolkoff Levy, Jane Schwartzberg shares her experiences battling cancer, living with the knowledge that there is no cure for her, and how a breast cancer bucket list can help.
Schwartzberg would give anything not to have stage 4 metastatic cancer. But she says that having an incurable illness has changed the way she lives – for the better. It's an approach to life that can help anyone facing personal challenges. During October's Breast Cancer Awareness month, she shares how her breast cancer bucket list has helped her.
"I live my best life every single day," says Schwartzberg, who was a 31-year-old newlywed when she was first diagnosed with breast cancer. She underwent treatment and eventually was declared cancer-free. She moved on with her life, giving birth to two children and launching a technology company. Then, when she was 42, the cancer returned.
"My breast cancer bucket list helps me prioritize how I live my life, whether that includes spending more quality time with family or taking a long-shot stab at meeting a favorite celebrity," she says.
It was the latter that helped lift Schwartzberg from depression after she learned that her cancer had returned. A friend encouraged her to make her wildest dream come true, and she decided that having lunch with Larry David, the man behind "Curb Your Enthusiasm," should go to the top of her breast cancer bucket list. Not only did she get her lunch with the comedian, he penned a testimonial for her book: "Jane Schwartzberg's attitude toward cancer is better than mine when I have a cold. This book moved me. Aargh!"
Amazon reviewer Christine Balling, who gave the book five stars, wrote:
"There have been few books authored by those living with breast cancer which make the reader feel as though he/she were a dear friend of the author, chatting over coffee, wanting to say the right things, laughing at her dry wit, all the while feeling somewhat uncomfortably astonished that a woman could continue to hold her head up high.
"I bought this book for my mother who is currently in remission and for myself so that I might better understand what it means for a woman - business executive, wife, mother, her parents' daughter - to have successfully struggled to embrace and 'fulfill' all said roles which she holds so dear -- cancer be d*mned …."
About Jane Schwartzberg
Jane Schwartzberg, 44, is the co-author of the newly released book "Naked Jane Bares All," the many-layered story – told with humor and candor -- of how she learned to embrace life when she was down for the count. Jane is a financial services executive and former CEO-founder of a start-up technology company.
"Naked Jane Bares All" was co-written by veteran writer Marcy Tolkoff Levy. Following a year of interviews and many late nights with Jane, her family and friends, Marcy formed the foundation of a colorful, poignant and even humorous collection of vignettes about how Jane kept getting back up when life knocked her down.