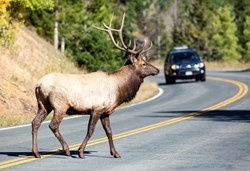 Lincoln, RI (PRWEB) October 07, 2013
Most collisions between vehicles and deer occur in the fall and early winter. That's why Amica Insurance is offering tips to help keep drivers and their passengers safe in the event of a deer crossing.
According to the New York State Department of Environmental Conservation (DEC), two-thirds of vehicle/deer collisions take place in October, November and December – the start of breeding season. The DEC encourages motorists to take the following precautions:

Pay close attention when traveling through areas with deer crossing signs. Signs are placed in spots with a high volume of vehicle/deer collisions.
Be especially careful when driving at dawn and dusk – peak commuting times – since deer are more active and it's harder to see at those times.
If a deer is spotted along the roadside, slow down because it may dart into the road at the last second.
If one deer crosses the road, there may be more behind it. Be sure to slow down and exercise extreme caution.
Use flashers or headlight signals to alert other drivers that deer have been spotted on or close to the road.
About Amica Insurance
Amica Mutual Insurance Co., the nation's oldest mutual insurer of automobiles, was founded in 1907. The company, based in Lincoln, RI, is a national writer of automobile, homeowners, marine and personal umbrella liability insurance. Life coverage is available through Amica Life Insurance Company, a wholly owned subsidiary. Amica employs more than 3,200 people in 40 offices across the country.
CONTACT: Vince Burks, Corporate Communications, 50 Amica Way, Lincoln, RI 02865-1155, 800-652-6422, ext. 24563
Twitter: Amica
Facebook: Amica Mutual Insurance Co.