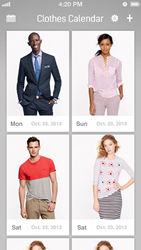 It's one of those apps that has nearly limitless practical application, and quite simply - it makes things a little easier for people who use it.
Houston, TX (PRWEB) October 08, 2013
Over the course of summer 2013, the team at Onseeker worked with Dr. Bufalino to completely overhaul the Clothes Calendar app and take it in a bold new direction - while keeping the necessity of clothing organization front and center. The resulting app (out now in free and paid versions) expands on the original concept, and provides even greater organizational flexibility.
Along with a strikingly simple and elegant new design, the biggest change comes in the form of creating 'occasions'. By either selecting a pre-set occasion (say, 'Family' or 'Meeting') or creating a custom one, the user of the app has complete control of how they want to sort outfits, offering vast uses for a variety of people and their needs.
"This app has very practical real world benefits, which is why we're so excited about it," said Frank Danna, Creative Director for Onseeker®. "I'm currently using this app to track certain outfits I wear with clients, and since I can add my own occasions, I can sort by client name to see what I wore on a particular day. It seems that this app could have infinite possibilities for a broad swath of people!"
Among other updates, users of the 'Pro version' (a .99 download on iTunes or the Google Play store) can add unlimited clothing entries per day, up to 5 different photos, and can add outfits on days in the past, present, and future.
When users first arrive on the newly updated Clothes Calendar app, they'll be able to view a brief how-to walkthrough, and add their first outfit. The process of choosing a photo or taking a new one, adding details and selecting an occasion takes just moments, and users can even share their clothing selection with friends and family via social media.
Once outfits have been added, users can keep track of them via the calendar area, which allows users to swipe between months and quickly view outfits on any given day.
"We constantly mention this app to colleagues, friends, family members, and even in presentations around Houston. When people hear about what the Clothes Calendar app can do, it truly becomes a light bulb moment that results in them wanting to download the app as quickly as possible," mentioned Roy Gonzalez, COO of Onseeker®. "We've heard all sorts of ways the app is being used for men and women of all ages…from keeping track of outfits worn on dates, to teachers wanting to make sure their clothes are being rotated consistently. It's one of those apps that has nearly limitless practical application, and quite simply - it makes things a little easier for people who use it."
The newly updated Clothes Calendar app is now available for users on iOS and Android devices. Clothes Calendar comes as a Lite (free) ad-supported version for iOS and Android with limited functionality, and a Pro (.99) version with full functionality and no ads, which can be downloaded on iOS or Android devices as well.
About Onseeker® Technologies:
Onseeker® Technologies is one of the largest mobile app developers in the United States. With over 300 apps developed and deployed, they continue to provide their clients exceptional apps at remarkable prices. Onseeker® excels in providing platform based apps for radio stations, churches and ministries, and sports teams. They also develop custom applications and mobile sites for companies looking to take their content and experiences mobile.
Media Contact:
Frank Danna
281-664-7951
About Janet Bufalino:
Dr. Janet Bufalino began her career in literacy as a Title 1 teacher in Corry, PA. During her years as a reading specialist, she supported children in grades K-6. Following the completion of her doctorate in Language Arts, Dr. Bufalino accepted a position at Shippensburg University of Pennsylvania in 1993. Presently Dr. Bufalino is the director of the reading coursework at Shippensburg University and is a Reading Recovery Trainer for the states of Pennsylvania, Maryland, Virginia and West Virginia.
Media Contact:
Dr. Janet Bufalino
JMBUFA(at)ship(dot)edu
717.860-6164