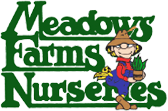 Chantilly, Virginia (PRWEB) October 09, 2013
Meadows Farms in Virginia, Maryland, and West Virginia will be hosting its second annual "Pink Day" event on October 12th through October 14th to raise funds for the Breast Cancer Research Foundation this year. There will be a lot of "Pink" activities including Silent Auctions, Raffles, Food and Beverage Concessions, Moon bounces, bands, and much more. Meadows Farms hopes to top last year's donations of over $28,000.
Each nursery sets up and facilitates its own activities for the events. The managers were very creative last year with adding the festivities of the event. There were bands, pink dress up by the employees, silent auctions featuring Meadows Farms "pink" plants as well as items from other area businesses, car washes, Pink balloons, and much more. All these activities help to make it fun for the customers to come out and enjoy and hopefully make donations to the cause.
This is a nationwide program that Proven Winners has supported for Independent Garden Centers across the country. It will raise over $250,000 in donations for the year. Meadows Farms will likely be the top nursery for this year in the program. By exceeding the $250,000 donation mark, Proven Winners will be able to name the researcher they want to finance with their donation. Proven Winners also gives a $1.00 donation for every Invibella Spirit Hydrangea sold which was developed specifically for this cause.
The event was moved from June last year to October this year to line up with Breast Cancer Awareness month, and will run the three days of Columbus Day weekend. Any customer that gives any donation will receive a 10% discount on all purchases. Meadows Farms will also be adding donations to the foundation in the name of their nursery that creates the most festive atmosphere and takes in the most donations. They will also be supplying some of the items for the silent auctions and a $500.00 gift card for a raffle.