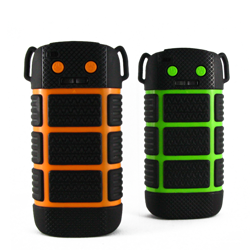 (PRWEB) October 08, 2013
In a world that is continuously more reliant on being connected, RovingPower.com is set to become a major player in helping people do just that. The company is excited to announce the launch of their international online storefront, which includes an impressive collection of premium power packs and power banks for all the major mobile device makers.
While the technology behind today's smartphones, tablets and other devices has improved dramatically, the batteries used to power them haven't seen significant advancement. This has become a conundrum considering that the advanced features, bigger screens and faster processors of mobile devices have higher energy demands. It has left consumers with feature-rich devices that require more charging time.
The advent of power banks - portable, self-contained units that store and provide electrical power – has understandably coincided with the rise of mobile device use. These external batteries have proved to be essential for ensuring that mobile devices are operable at all times.
RovingPower's collection of power banks and power packs include:

Micro: 2400 mAh highely portable unit
Adventurer: 5600 mAh waterproof and drop resistant unit for adventure travel
Urbanite: The slimmest power bank on offer. 5000 & 9000 mAh capacities available
Socialite: High capacity power banks suitable for charging tablet devices. 10000, 15000 and 20000 mAh capacities available
Professional: High capacity 20000 mAh power pack with multiple voltage options making it capable of charging a laptop.
Founder Evan Kendal understands that in a market with subpar sellers product quality is what matters most. Mr. Kendal has enjoyed substantial success helping others to build their online businesses during his 10 years in the ecommerce industry. "We spent a considerable amount of time studying the products and getting to know the manufacturers," said Mr. Kendal. "We stand behind our products because we know they are among the best products available."
RovingPower.com is so confident in the quality of their merchandise that they are offering an international 1-year warranty as well as a 30-day unconditional return policy.
To learn more about RovingPower.com or their collection of power packs, please visit http://www.rovingpower.com.
About RovingPower.com
RovingPower.com was founded to meet the growing needs of consumers that want to stay connected. With power banks and power packs that are proven to be reliable and provide the power they say they will, products from RovingPower.com are guaranteed to perform. They are sold direct to consumers making them some of the most affordable options available today. RovingPower.com offers the price tag of an eBay seller with the customer service and quality expected from major brick-and-mortar stores.