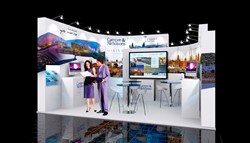 "Hire has been exceptionally popular with our UK clients because it provides them with flexibility at a lower cost than our competitors. We're really excited to now offer this service to our International clients, as if anything, the benefits are greater."
Poole, Dorset (PRWEB UK) 10 October 2013
Exhibition designers and contractors, Quadrant2Design have announced that they are now extending their popular 'free-hire' programme to International clients visiting pan-European tradeshows.
The plan empowers foreign-based exhibitors to mount larger and more impressive exhibition stands throughout Europe, at significantly reduced costs. In addition, this unique plan eliminates the common logistical problems of clients having to transport exhibition infrastructure back and forth from their base country to events across Europe.
This will be the first time that Quadrant2Design have extended the scheme to customers outside the UK. Of course, this revolutionary method of organising an exhibition stand remains open to UK based exhibitors, who are also taking advantage of the plan in ever increasing numbers.
Simply stated, the plan offers the exhibition stand structure - the 'nuts & bolts' if you like - on a temporary loan basis. So clients pay normal, competitive costs for their exhibition graphics and for the professional installation of the stand, but nothing for the hire of the actual hardware.
Quadrant2Design's Director, Chloe Anderton explains: "Free hire has been exceptionally popular with our UK based clients because it provides them with flexibility at a lower cost than our competitors. We are really excited to now offer this service to our International customers, as if anything, the benefits are even more pronounced for companies based abroad."
The plan does not represent 'cut-price' or budget solution, however. Chloe Anderton: "This plan has become an integral part of our business model and over 50% of our customers use it to organise their entire programme. Although the plan obviously reduces the cost of a client's exhibition stand, there are other significant payoffs".
Apart from reduced cost, the other, maybe less obvious, benefits include:
Increased flexibility; foreign based exhibiting companies don't need to invest in exhibition stand hardware, for which they may have limited future use. Quadrant2Design will store their exhibition stand in the UK and ship directly to the location when required.
Because no contract or commitments are involved, Internationally based exhibiting companies have the freedom to use free-hire as and when it suits them.
Exhibiting companies are then free from the logistical and organisational problems of mounting a complex overseas exhibition project; these issues are taken care of by Quadrant2Design.
The cost savings that exhibitors enjoy can then be effectively reallocated towards marketing and public relations - promoting their presence at the exhibition.
The plan is also an environmentally responsible way of organising exhibition stands abroad, because it makes repeat hired use of a valuable mined resource, the aluminium exhibition stand structure.
Other UK exhibition contractors are not so pleased with the plan, says Alan Jenkins, MD at Quadrant2Design: "I've had hostile reaction from exhibition industry insiders, who for some strange reason, see this as unfair competition! In my book, this is a legitimate and innovative way of delivering our service to a wider audience, offering value combined with creativity. We will continue regardless of criticism from competitors who can't match our offer".
Quadrant2Design design and build exhibition stands throughout the United Kingdom and Europe, using their exclusive Prestige Events System. The company employs 29 people, has all key functions in-house, and has a fourteen year history of successful projects across the globe.
To learn more about the company visit: http://www.prestige-system.com/ or contact Design Director, Chloe Anderton at: designteam(at)quadrant2design(dot)com.