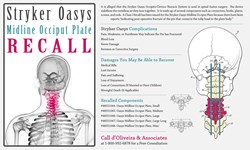 (PRWEB) October 18, 2013
The Stryker Oasys Occipito-Cervico-Thoracic System is a spinal fusion device that works by holds the vertebrae in place with screws and rods. In February 2004, the FDA gave this medical device premarket approval under its 510(k) process. The FDA letter declared that the device passed the "substantial equivalent determination" and that it could be used to treat degenerative disc disease, spinal stenosis, and spinal dislocations or fractures. View the FDA premarket approval letter. People who have experienced complications with the Oasys Spine Plate, may want to talk to a Stryker lawyer about their legal options.
In May 2013, Stryker issued a Class I Recall of the Oasys Midline Occiput Plate. The company sent "Urgent" letters requesting medical facilities "to examine their inventory and immediately stop distributing or using the recalled lots." The FDA officially issued the same warning in August 2013. The recall was issued because reports were received suggesting that a pin which attaches to the Occiput Plate fractured following operation. The fracture of this pin may cause serious side effects such as substantial blood loss, severe nerve injury, or the revision surgery (i).
Attorney Paul d'Oliveira stated, "Spinal fusion surgeries present serious dangers and patients deserve the safest medical devices in these procedures. If you have been injured by the Stryker Oasys device, then you should talk to our staff about your legal options. You may be entitled to receive damages for medical expenses, lost wages, pain and suffering, or other losses."
The Stryker Oasys Infographic explains which components have been recalled and complications that may occur. d'Oliveira & Associates has been practicing personal injury and disability law for over 24 years. The law firm works with Stryker Oasys lawyers who are filing lawsuits and there is no legal fee unless a settlement or award is obtained. To contact the firm call 1-800-992-6878 or submit a contact form online for a free case evaluation.
(i) FDA, Medical Device Recalls.
fda.gov/MedicalDevices/Safety/ListofRecalls/ucm366713.htm