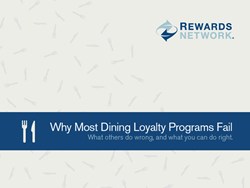 Most restaurants have some form of a loyalty program, but no proof that it's actually working to build loyalty with their customers.
Chicago, IL (PRWEB) October 08, 2013
Rewards Network, a leading dining rewards program provider, is excited to announce the release of a new report entitled "Why Most Dining Loyalty Programs Fail." The report is available for download on the company blog. Rewards Network Chief Partner Development Officer, Megan Flynn, will moderate a panel at the Fast Casual Summit in New Orleans this October, focusing on how successful dining loyalty programs drive sales by using data. The report will also be distributed at this presentation.
The report, which is designed to help restaurants succeed when choosing a dining loyalty program, highlights common errors restaurateurs make when it comes to choosing a loyalty program and how they can overcome those errors.
A report by Colloquy showed that only 44 percent of loyalty program members are active participants in programs they are enrolled in.
"When a restaurant invests in a loyalty program, they should be sure that it is not only bringing in more customers, but also building loyalty among existing customers. It should focus on rewarding desired behaviors with meaningful rewards," says Flynn.
Rewards Network data shows over a 22 percent increase in dining activity with loyalty members who are specifically targeted and rewarded to dine more often based on their past dining activity.
The rewards program offers simple solutions to help restaurants acquire new customers and build customer loyalty. Rewards Network members spend an average of 23 percent more than non-members at program restaurants. "Most restaurants have some form of a loyalty program, but no proof that it's actually working to build loyalty with their customers. Only concrete data, based on actual consumption, can measure success and help restaurants make informed business decisions," says Flynn.
The report focuses on six reasons most programs fail and how restaurants can succeed, including relevant marketing tactics, engaging with customers and using data to better shape their business.
Flynn will be moderating a panel at the Fast Casual Summit on Monday, October 14, 2013, at 9:30 AM with speakers Brandon Logsdon, Principal and COO of Excentus, and Sam Patel, Sr. Vice President of Ike's. They will be discussing how to drive sales by using customer data, and the panel will be open to questions from the audience.
About Rewards Network
Rewards Network is a results-driven, measurable marketing program that helps restaurants fill more tables and build a loyal customer base. Rewards Network provides access to over 3.2 million passionate diners, driving new and repeat visits by offering rewards such as airline miles, hotel points, charitable contributions and more. The company promotes restaurants to diners via web, email, social media, and mobile marketing, and also provides valuable customer feedback and performance tracking to help restaurants improve service and increase profits.
Press Contact:
Cheryl Parsons
VP National Accounts, Rewards Network
312-291-5830