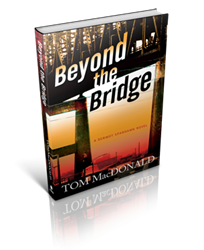 "Beyond the Bridge brightened my day and confirmed Tom MacDonald as a thriller writer to watch." —Sacramento/San Francisco Book Review
Longboat Key, Florida (PRWEB) October 09, 2013
Award winning author, Tom MacDonald, continues his New England book launch tour for BEYOND THE BRIDGE, prequel to his novel, THE CHARLESTOWN CONNECTION!
Tom will be signing and discussing his books at the venues listed below:
Saturday, October 12th
Barnes and Noble
Derby Street Mall
Hingham MA
3:00 - 5:00 pm
Friday, November 1st
RiverRun Bookstore
142 Fleet Street
Portsmouth, NH 03801
7:00 pm
Tuesday, November 5th
John Curtis Free Library
534 Hanover Street
Hanover, MA
7:00 pm
November- 8,9,10th
New England Crime Bake
Dedham, MA
Thursday, November 21st
Mansfield Public Library
255 Hope St.
Mansfield, MA
7:00 pm
Oceanview Publishing provided the following synopsis of BEYOND THE BRIDGE:
"Dermot Sparhawk, a struggling alcoholic, reluctantly agrees to help clear the name and find the killer of an accused pedophile priest. After more priests are slain, it becomes evident that he is dealing with a sadistic serial killer.
When the police and others attempt to stop Sparhawk's efforts, he gathers together a cadre of unlikely allies for support. With the help of his Micmac Indian cousin, his paraplegic tenant and former Boston College teammate, Dermot blazes an unconventional trail to the killer. Even with his unique team, Sparhawk must use his Micmac instincts and Irish wit to charm and bulldoze his way to the truth."
"Engrossing from page one, this novel brings to life fascinating people involved in a tantalizing mystery…this intricate crime thriller is riveting and immensely enjoyable and the eventual identity of the suspected serial killer is a shocker."
—Portland Book Review
"It's really pleasing as a reviewer to come across a book that stands out from the pack. So often the pile of books feeds me mediocre to average titles. Beyond the Bridge brightened my day and confirmed Tom MacDonald as a thriller writer to watch. There are two pleasing features to the book…the willingness to explore the poverty and desolation in Boston's underbelly…a real sense of authenticity about it. Secondly Dermot is an alcoholic and struggling to avoid an early grave through alcohol abuse. This adds a layer to the challenge of solving the case."
—San Francisco / Sacramento Book Review