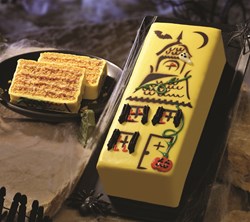 The Swiss Colony is passionate about providing unique baked goods, chocolates and candies to help everyone tastefully celebrate the Halloween season.
Monroe, Wisconsin (PRWEB) October 08, 2013
Along with providing candy treats for trick or treaters, approximately 30 percent of Americans will celebrate Halloween by attending or hosting a party, according to insights from the National Retail Federation's Halloween Spending Survey. This year, look to The Swiss Colony for Halloween-themed desserts that will have guests howling for more.
The new Haunted House Torte ($22.95) is filled with nine layers of pumpkin flavor cake and luscious butter creme specially hand decorated with a spooky mansion theme. Its eerie yellow frosted background will stand out in a crowd.
For another taste of Fall, try the new Pumpkin Swirl Cake ($29.95) featuring local Wisconsin butter and a homegrown pumpkin blend with earthy cloves, nutmeg, cinnamon and ginger.
Create a spooky graveyard scene with the Mini Cakes Trio ($19.95). Each adorable cake is hand decorated to resemble a vampire, black cat and mummy. Moist vanilla and chocolate ($31.95) cakes are rolled with butter creme filling and covered with milk chocolate or sweet Swiss creme. Complete the look with box of not-so-scary Skeleton Truffles ($25.95) with rich chocolate ganache centers.
"With nearly 160 million people expected to celebrate Halloween, it's a very special holiday for our bakery," says Becky Henke, VP of Food at The Swiss Colony. "We are passionate about providing unique baked goods, chocolates and candies to help everyone tastefully celebrate the season."
Fall favorites that customers request year after year are the little Spiced Pumpkins ($19.95-$29.95) and the delicately spiced Pumpkin Bark ($20.95). The round orange pumpkins are filled with moist pumpkin cake made extra delicious with real cream cheese blended into the batter.
For Halloween party goers who need gluten-free desserts, Swiss Colony's Gluten-Free Pumpkin Cheesecake ($49.95) makes is a perfect solution. Pure cream cheese and farm-fresh ingredients are irresistible. Swiss Colony's regular Pumpkin Cheesecake ($31.95) sits atop a molasses crust and is topped with a pecan and brown sugar streusel.
To see more Halloween and Gluten-Free desserts along with the entire collection of Swiss Colony's baked goods, chocolates, candies, meats and cheeses, shop online at http://www.swisscolony.com.
About The Swiss Colony
The Swiss Colony is a family-owned Wisconsin company that has been creating food gifts for more than 87 years. The company insists on the highest quality ingredients for a large selection of festively packaged gifts for every occasion. Exclusive recipes developed by European Master Bakers and hand-decorated novelties like no other are just two of the reasons customers include The Swiss colony as part of their holiday traditions year after year.