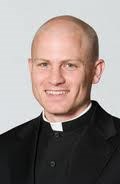 We have many pilgrims who are coming despite all that is happening...
Indianapolis, IN (PRWEB) October 11, 2013
Fr. John Hollowell, a Catholic priest of the Archdiocese of Indianapolis was ordained on June 6, 2009. His life would be forever changed. Since ordination, Fr. Hollowell has served as Chaplain at Cardinal Ritter High School where he was also an assistant coach for the football team. Currently, he serves as Pastor of Annunciation Church in Brazil, IN.
Travel is nothing new for Fr. Hollowell since he was ordained. The job requires it. His next destination is the Holy Land. "The Holy Land is a place that I have always wanted to go and now is a good time," he said. Despite the trouble in Syria and Egypt, pilgrimage sites on Israeli and Palestinian land are very safe. Bishop Shomali, Auxiliary Bishop of Jerusalem, said "We have many pilgrims who are coming despite all that is happening in the Middle East; they are coming, confidently, they visit… it's quiet." Quiet and prayer are two things this busy, young priest is seeking on his February 2014 pilgrimage to the Holy Land.
During his pilgrimage, which is still open to pilgrims, Fr. Hollowell will be visiting places like Jerusalem, Bethlehem, Bethany, Capernum and the Sea of Galilee. He and fellow pilgrims will be walking in the footsteps of Jesus Christ. For him, it will be an unforgettable experience. It always is for Holy Land pilgrims.
The pilgrimage company Fr. Hollowell will be traveling with is Tekton Ministries. Tekton is an Indianapolis-based, Catholic pilgrimage company whose ministry is to send priests and their pilgrims to holy places. Director Richard Sontag describes Tekton's main purpose. "We work with priests, often referred to us by other priests to plan the most spiritual experience we can for them and for the pilgrims that journey with them." He added, "We are very Catholic and Catholic pilgrimages are what we do."
When asked about Fr. John Hollowell's pilgrimage, Sontag said, "He's a great priest! We're so excited to have him with us. He is a young, dynamic priest who is not afraid to stand up for the truth. There is no doubt what he's about. On his social media profile, he lists his occupation as Spreading the Gospel and Fighting Satan."
Fr. Hollowell is no stranger to social media. Since 2009, he has been blogging on a site he started called "On-This-Rock". He is also visible on YouTube and other social media where he posts videos of his homilies and talks.
His most recent trip was to New Zealand in 2013 where he spoke at the annual Eucharistic Convention. His topic, the Eucharist and evangelizing through the internet and social media.
For more information or to join Fr. Hollowell on his pilgrimage to the Holy Land from February 11-21, 2014, please call Tekton Ministries at 1-866-905-3787 or send an email to pilgrimage(at)tektonministries(dot)org .