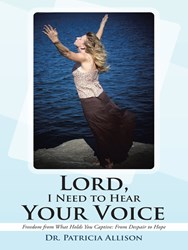 I believe women need to take a step up within leadership. My book embraces scripture and allows the reader to acquire inner healing so they can bring a brighter light to this dark world. - Dr. Patricia Allison
Phoenix, Ariz. (PRWEB) October 09, 2013
Today, over half of all American Protestant denominations ordain women. Yet, with restrictions as to the positions women can hold, Patricia Allison asks: how can women make a bigger impact within the church?
In "Lord, I Need to Hear Your Voice," Allison shares an avenue for all women seeking to understand their personal purpose in life. Great for both the individual and church group, this book is an essential tool for any woman seeking to enhance her relationship with God.
"I believe women need to take a step up within leadership," says Allison. "My book embraces scripture and allows the reader to acquire inner healing so they can bring a brighter light to this dark world."
Using her background of working with women in need and her experiences as a professor, Allison aims to inspire, empower and educate women to lead others.
"I was involved for years in a program that cared for women held captive due to poor decision-making," Allison said. "Using my years of nurturing woman back to the Lord, this book guides those seeking peace through forgiveness and understanding."
Filled with roadmaps for restoration, this book addresses a variety of issues that can interfere with faith, worship and understanding. Aiming to bring women together in their worship, "Lord, I Need to Hear Your Voice" provides the perfect plan for a healthy and fulfilling life.
"Lord, I Need to Hear Your Voice"
By Dr. Patricia Allison
ISBN: 978-1-4627-2951-7
Pages: 258
Price: $17.99
Available at http://www.crossbooks.com, http://www.amazon.com, and http://www.barnesandnoble.com
About the author
Dr. Patricia Allison is a professor specializing in servant leadership, as modeled by Jesus Christ, in the doctoral studies program at Grand Canyon University. She has worked with women in many situations to find their paths to God's love and inner peace. She and her husband, Larry, live in Goodyear, Arizona.
# # #