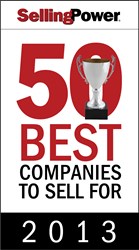 Each company is succeeding when it comes to helping salespeople perform at their best.
Fredericksburg, VA (PRWEB) October 08, 2013
Selling Power, a leading periodical for sales managers and executives, is pleased to announce the release of its annual list of the 50 Best Companies to Sell For.
Companies are evaluated in the following areas:

Company revenue and growth
Sales compensation packages
Sales culture
Onboarding and sales enablement strategies
Training and coaching process
Annual turnover percentage
A new area of analysis this year was company recognition and reputation. The Selling Power research team assessed awards received that would enhance a sales force's ability to sell and affirm the company's commitment to community outreach and involvement.
To see the full list of 50 companies, visit http://www.sellingpower.com/2013/50-best-companies-to-sell-for/.
The top 10 companies on the list represent a variety of industries, including technology, software, financial services, textiles, and pharmaceutical. Four of the top 10 are public (Forest Laboratories, Heartland Payment Systems, Iron Mountain, LinkedIn). This is the first year that the following companies have appeared in the top 10 ranking: DocuSign, InsideView, LevelEleven, LinkedIn, and SunGard.
SunGard, the number one company on the 50 Best Companies to Sell For list, recently embarked on a $4 million sales transformation that has put the sales team on target for significant growth on a billion-dollar sales plan.
Each company on the list has a unique and highly successful sales culture, although the size of the sales team at each company varies widely. Selling Power founder and publisher Gerhard Gschwandtner says the diversity of the list is good news for sales professionals.
"Sales professionals want to work somewhere inspiring, and sometimes that's not easy to find," Gschwandtner says. "When we assemble this list each year, we put a high premium on sales cultures that set the standard for hiring, motivating, retaining, and supporting sales teams. This year, we see that these opportunities exist among companies at all levels of maturity. Each company is succeeding when it comes to helping salespeople perform at their best."
In a recent blog post, "My Thoughts on the 50 Best Companies to Sell For," Gschwandtner shares the following top three characteristics of superlatives and sales-friendly companies.
1. They offer industry-leading solutions. No salesperson wants to sell for a company with a mediocre offering. Remember, your company doesn't have to be everything to all customers -- just the best to your best advocates.
2. They communicate well. We live in a real-time economy, and that is simply what all employees expect from employers. If you fail to communicate comp-plan changes, announce new product offerings with no game plan, and never take time for coaching sessions, then you're not creating a supportive and transparent sales culture.
3. They empower their salespeople. Today it is almost impossible for top companies to lead in the market without sales-enablement solutions, training, coaching, and mentoring. It takes a village to create a sales superstar. Combine that support with the natural drive and ambition of a talented seller, and watch your sales take off like a rocket.
Each year, the corporate research team at Selling Power magazine assembles and publishes the 50 Best Companies to Sell For list. This year is the 13th consecutive year the list has appeared in print.
To be considered for inclusion in the list in 2014, companies can request applications at http://www.sellingpower.com/50-best-companies-to-sell-for/apply.
About Selling Power
In addition to Selling Power magazine, the leading periodical for sales managers and sales VPs since 1981, Selling Power Inc. produces the Sales Management Digest and Daily Boost of Positivity online newsletters, as well as a five minute-video series featuring interviews with top executives. Selling Power is a regular media sponsor of the Sales 2.0 Conference.