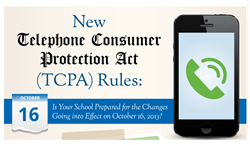 "We've taken the time to research and investigate just what the new TCPA regs may mean to our clients. And we've created an infographic so the information is easy, accessible and understandable."
Andover, MA (PRWEB) October 09, 2013
Abiding by the amendments to the 1991 Consumer Protection Act is vital to private sector colleges which rely on telemarketing to assist them in their enrollment efforts. However, the pages and language of the new regulations are hardly written for ease of understanding.
The infographic created by Effective Student Marketing, an important player in the private sector college world, has turned pages and pages of legislative language into a much easier to digest visual representation. Because understanding how the new rules will affect its clients is imperative to the team at Effective Student Marketing, the company has researched TCPA and its myriad ramifications to clients –and it is now sharing the results in an easy to understand format.
"We've taken the time to research and investigate just what the new TCPA regs may mean to our clients," said Effective Student Marketing president Andy Kelley. "And we've created an infographic so the information is easy, accessible and understandable."
The new rules, which take effect on October 16th, may have a profound impact on private sector schools. The act now requires prior written consent for auto recruitment calls to landlines and mobile devices, alike, and sets up steep penalties for infractions. Schools running afoul of the law can be hit with $500 to $1500 per violation.
Even before the changes, litigants had ramped up their lawsuits under the old act. According to estimates by litigant data company WebRecon LLC, TCPA related lawsuits saw a whopping 63 percent increase in 2012. And TCPA awards remain a rare no-cap area of litigation. The sky's the limit for perceived victims of overly aggressive marketers.
Now that the TCPA regulations will offer even broader consumer protections, schools using the power of mobile media to deliver their messages with robocalls will want to take note.
As schools navigate through the new regulations, they'll need to be mindful of exactly what those rules are and how they can best adapt their recruitment practices. The infographic from Effective Student Marketing will outline steps schools could take to adjust their marketing plans.
While the new TCPA regulations should be taken seriously by schools and their representatives, they do not represent an insurmountable hurdle to reaching prospective students. Creative marketing in strict adherence to the new rules can still work to increase enrollment numbers.
The information contained herein is for informational purposes only and is not intended to represent legal advice or counsel in any way.
About Effective Student Marketing
Effective Student Marketing creates, monitors, and manages pay per click campaigns for higher education institutions. Our team stays on top of the latest tactics and trends and constantly tries out new strategies for clients, including beta tests from Google, to help schools achieve their enrollment goals. In addition to pay per click advertising, Effective Student Marketing offers other services including social media, search engine marketing, content creation and distribution, web design and optimization, reputation management, and cost-per-lead management. You can find more information about their services at http://www.EffectiveStudentMarketing.com.