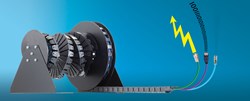 All igus products are designed to run maintenance free for life, saving customers time, money, and aggravation.
East Providence, Rhode Island (PRWEB) October 08, 2013
DEX 2013 is the next stop for igus to showcase new additions to its proven-quality product lines. igus Inc., a leader in cable carriers, continuous-flex cables, plastic bushings, self-aligning bearings and linear guides, will exhibit some of its newest products at DEX, the Design Engineering Expo, to be held at the Mississauga Convention Centre in Mississauga, Ontario, Canada on October 30th, 2013. DEX provides an opportunity for face-to-face interactions between engineers, product developers and others to see and discuss the latest technologies and design solutions on the market. igus' products on display will include the new E4-1 Energy Chain System®, PRT's, or polymer slewing ring bearings, and "E-Spool," a replacement for traditional cable drums.
Featured products
The new E4-1 line of Energy Chains® combines the benefits of its predecessors in the E4 range of products. The new E4-1 is perfect for nearly every application, offering greater stability in standard and smaller dimensions. With E4-1 cable carriers, the service life of applications can be increased and costs significantly reduced.
iglide® PRT slewing rings use self-lubricating, low-friction sliding elements in place of ball bearings. Often used for manually operated pivoting and rotating motions, the ready-to-install PRT's offer precision and speed at an affordable price. At clocked movements in assembly lines, they function perfectly over extended periods of time, no matter how often the movement is performed.
The Energy Chain e-spool system is a space-saving, more flexible alternative to a cable drum. The inventive design keeps the chain rolled up, until cables are needed; at that point, a cable carrier is guided by a roller, providing exactly the right length and tension of cable supply.
High quality products at lower costs
All igus products are designed to run maintenance-free for life, saving customers time, money, and aggravation. igus plastics are all tribologically optimized material compounds specifically designed to solve customer application problems, even if the customer hasn't thought of the problem yet. Product lines are all extensively tested at the igus laboratory in Cologne, Germany to ensure all igus products will run worry-free for millions of cycles in all applications. Thousands of parts available in stock and online design configurators help designers and engineers to solve their most demanding application problems as quickly and easily as possible.
About igus
igus® develops industry-leading Energy Chain® cable carriers, Chainflex® continuous-flex cables, DryLin® linear bearings and linear guides, iglide® plastic bushings, and igubal® spherical bearings. These seemingly unrelated products are linked together through a belief in making functionally advanced, yet affordable plastic components and assemblies. With plastic bearing experience since 1964, cable carrier experience since 1971 and continuous-flex cable since 1989, igus provides the right solution from over 80,000 products available from stock. No minimum order required. For more information, contact igus at 1-800-521-2747 or visit http://www.igus.com.