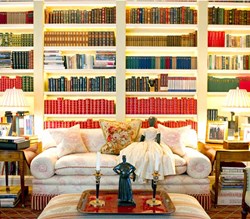 Beverly, MA (PRWEB) October 09, 2013
On Saturday, November 2nd, Kaminski Auctions will bring to the podium items from the collection of Oprah Winfrey in an auction to benefit the Oprah Winfrey Leadership Academy Foundation College Fund. To be held on the grounds of the Santa Barbara Polo and Racquet Club in Carpinteria, Calif., the auction will offer items from her homes in Chicago, Maui, Indiana and Santa Barbara.
In March 2013, O, The Oprah Magazine revealed Oprah's plans for a top-to-bottom remodel of her Santa Barbara home. For years, pieces previously selected by the late decorator Anthony P. Browne, including Continental and English antiques, light fixtures, upholstered furniture and fine art, had filled the spaces within the estate. These items, along with personal memorabilia, now will be placed in this auction.
Oprah has chosen to part with items that have helped define her home. All proceeds will benefit a cause close to her heart -- a college fund for the graduates of the Oprah Winfrey Leadership Academy for Girls in South Africa. In 2007, she opened the Academy, and it will see the graduation of its third class of students this year. The Oprah Winfrey Leadership Academy Foundation created its College Fund to grant scholarships to its graduates to continue their education.
Bidders will recognize many items at the auction from articles in O, The Oprah Magazine covering Oprah's decoration and redecoration of her Montecito home. Among these marquee items are hand-wrought iron panels that graced the main staircase of her Santa Barbara residence, estimated at $4,000 to $7,000, and a collection of fine English George Smith upholstered furniture, including the singular green and white plaid couch, with down-stuffed cushions and coordinating pillows, valued at $3,000 to $4,000.
In addition to these custom-made contemporary items, Oprah also has selected a number of exceptional European antiques from her collection to add to the sale. One exquisite Louis XVI chest stamped by the maker "Boudin" is expected to bring $30,000 to $50,000. The signed piece with detailed inlay and marble top makes this item highly desirable to any collector of fine decorative arts. Of similar quality is a set of Louis XV armchairs in hand embroidered yellow silk upholstery, valued at $20,000 to $40,000.
An impressive collection of fine art works will complement these stunning antiques. The auction will include works by artists Allen Stringfellow, John Kramer, Clementine Hunter and many others.
People will also have the opportunity to purchase a number of memorabilia items autographed by Oprah, including vintage magazine covers, original promotional material for The Color Purple, and even a few of "Oprah's Favorite Things."
All are invited to preview these and many other items to be auctioned at the grounds of the Santa Barbara Polo and Racquet Club. Items will be available to view beginning Wednesday, October 30th through Friday, November 1st from 10:00am to 5:00pm.
On Friday evening, November 1st, Kaminski Auctions will host an exclusive preview party at the Santa Barbara Polo and Racquet Club. Drinks and appetizers will be served from 5:00pm to 8:00pm during the extended preview hours. Tickets for this special preview event will be available for $100.00, and include food and drink at the event, VIP auction seating, and a color catalog. Free general admission seating will be available for this auction by pre-registering for tickets at http://www.kaminskiauctions.com. Catalogs may be purchased for $50.00 through Kaminski Auctions at http://www.kaminskiauctions.com.
About Oprah Winfrey Leadership Academy for Girls and the College Fund
Oprah Winfrey Leadership Academy for Girls (OWLAG) is committed to academic achievement, service leadership and cultural enrichment for girls who show outstanding promise, despite their social circumstances. OWLAG offers a dynamic and innovative curriculum designed to develop critical, questioning minds and to prepare students for university study. At the end of this year, three classes of students have graduated with 100% of them continuing their education at universities in South Africa and a range of prestigious American institutions, including Stanford University, Brown University and Spelman College, among others. The College Fund was established to support and encourage these young women leaders and those who will follow them in furthering their educational pursuits. For more information about the Academy or the College Fund, please visit: http://www.owla.co.za/donations.htm.
About Kaminski Auctions
Kaminski Auctions, located on the North Shore of Boston, has been serving the national and international antiques markets for over 25 years as a full service auction house and appraisal service for fine art, antiques and estates.
With locations in Beverly Hills, San Diego, Palm Desert, New York City at the Manhattan Art and Antiques center and two locations in Beverly, Massachusetts, Kaminski Auctions hosts over 25 auctions a year.
In today's highly competitive market of fine art and antiques, Kaminski Auctions provides its customers with bicoastal services and marketing.
Kaminski Auctions offers specialty departments in Asian Art and Antiques, Silver, Glass and Lamps, Couture and Vintage Clothing, European and American Fine Art and Furniture, Photography and Modern Design. We have highly trained and knowledgeable appraisers on staff that will help you determine the true value of your antiques, or entire collections.
Free Appraisal days are offered every Tuesday at many of our locations. For more details, or to consign, please visit kaminskiauctions.com. We welcome emailed photos of your items. Contact: consignments(at)kaminskiauctions(dot)com
Contact: consignments(at)kaminskiauctions(dot)com.
MEDIA CONTACTS:
OWN & Harpo Studios
Nicole Nichols
EVP, Communications & Strategy
323-602-5511
Nicole_Nichols(at)own(dot)tv
Chelsea Hettrick
Director, Communications
OWN: Oprah Winfrey Network
323-602-5632
Chelsea_Hettrick(at)own(dot)tv
Kaminski Auctions
Diane C Riva
978-927-2223 Ext 500
driva(at)kaminskiauctions(dot)com