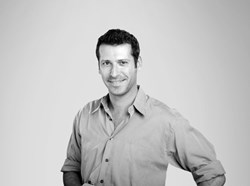 New York, NY (PRWEB) October 10, 2013
Global branding consultancy Dragon Rouge is creating a new innovation-focused business in New York to address rising demand in this space from its clients around the world.
The new company – Dragon Rouge Innovation – will be lead by Eric Zeitoun, previously President at Dragon Rouge New York. The team at Dragon Rouge Innovation will bring expertise in innovation strategy and new product development to solve innovation challenges and help clients achieve success. In addition to serving as the new venture's CEO, Eric will act as Group Director Innovation for the Dragon Rouge Group, ensuring the quality and alignment of Dragon Rouge's innovation activity across the globe.
Pearse McCabe, previously Director at Dragon Rouge London, will take over from Eric as CEO of Dragon Rouge in New York. Pearse brings a rich background of defining and creating brand worlds based on current and future consumer trends. Prior to joining Dragon Rouge, Pearse was Global Strategy Director and a member of the management team at Fitch, and has worked on many international assignments across different categories, including Health and Beauty, Luxury Brands, Media, Financial Services, Telecom, Automotive and Retail.
About Dragon Rouge
Founded in 1984 by Patrick Veyssiere and Pierre Cazaux, Dragon Rouge is the largest independent global brand, design and innovation consultancy with 9 offices and over 350 employees worldwide. Dragon Rouge designs brands, develops insights that underpin future brand success, initiates the creation of new products and services, creates identities and communications - and engages people in making their organizations great.
Dragon Rouge recently published 'Business is Beautiful – The hard art of standing apart' which explores the hidden 'unmeasurables' of successful business stories. It defines the five hallmarks of beautiful businesses - integrity, curiosity, elegance, craft and prosperity and provides an antidote to the obsessive distillation and quantification of statistics in business. It contains interviews with 20 businesses, including BMWi, Rabobank and 3M. To find out more visit http://www.dragonrouge.com or http://www.business-is-beautiful.com.