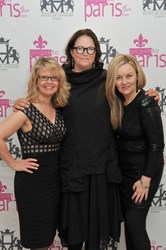 We are so pleased that our launch event generated awareness and support for a charity that is close to my heart
(PRWEB) October 09, 2013
GIRLS GUIDE TO PARIS ET PLUS and partner Hotel de Vendôme raise money and celebrate the launch of the new digital magazine GIRLS GUIDE TO PARIS ET PLUS joined by Ann Gerard Parfums, Christofle, Perrin Paris with VIP guests on October 3, 2013 for an elegant champagne reception. The winners of the online donation drive were announced on October 5th. With a goal of raising $10,000 for Ubuntu Africa, the event charity, $7,520 has been raised and donations are still being accepted at: (https://www.everribbon.com/ribbon/view/14327) with a few gifts still left to give away.
In 2007, Whitney Johnson created Ubuntu Africa in response to her experience volunteering at a South African orphanage, where she saw children die due to lack of basic resources. Ubuntu provides these critical care resources and services to over 200+ HIV positive children in Khayelitsha, South Africa (http://ubafrica.org/). Doni Belau founder of Girls' Guide to Paris, the travel guide and website with 1,000,000 readers per year, and founding Ubuntu board member joins with Whitney Johnson (Organization Founder) to celebrate. "We are so pleased that our launch event generated awareness and support for a charity that is close to my heart" said Doni Belau.
Donors were rewarded, taking home a selection of luxury gifts such as perfume by Ann Gerard, a custom monogrammed tray by Christofle and the signature "Ball Bag" designed by Perrin Paris. Gifts also included a luxury apartment stay, handmade French chocolates, and dinner for two in Paris. Guests, as well as contributors, took home the book Ooh La La by Jamie Cat Callan, who was also present at the reception.
The evening included presentations by the sponsors and an interactive digital display of the launch issue. Ann Gerard, creator of Ann Gerard Parfums shared her trio of perfumes, Cuir de Nacre, Ciel d'Opale, and Perle de Mousse as well as gifting samples to guests. Christofle showcased their new sterling silver jewelry collections handcrafted in France. Designer handbags provided by Perrin Paris were displayed. Michel Perrin was on hand to greet guests personally and share the history and heritage of the brand that he and wife, Creative Director Sally Perrin, oversee worldwide. Stephan Wenz, General Manager of the Hotel de Vendôme greeted guests and shared information about the historic property. Chef Marie prepared a delicious selection of 'amuse-bouches' including a fresh vegetable gazpacho, bite-sized "foie gras" and a toasted cheese sandwich with truffle, miniature lemon tarts and delicious raspberry macaroons. VIPs from the American expat community joined with representatives from companies such as: Air France, Barclays Bank, Christian Dior, Inter Continental Hotel Paris - Le Grand who were all there to support the South Africa-based charity and celebrate the launch of the new e-magazine GIRLS' GUIDE TO PARIS ET PLUS. The magazine is a bi-monthly digital travel publication that will feature Paris and France at its core but will explore other world destinations (Africa, Asia, Europe, the Americas) to inspire "Girls' Guide" readers as well as new subscribers. The magazine will also offer lush travel photography making it a must-have for its devoted audience of tablet, laptop and smart-phone users. The e-magazine offers the launch issue (Released on September 10) for free to share with friends. Subscriptions are $19.95 and can be purchased at this link: (http://girlsguidetoparis.com/subscribe-to-the-girls-guide-magazine/).
See first issue here free: http://girlsguidetoparis.com/girls-guide-paris-et-plus/
The upcoming holiday issue of GIRLS' GUIDE TO PARIS ET PLUS, to be released on November 10, 2013, will showcase Paris in all its seasonal splendor. The "ET PLUS" will include the added destinations of Africa (Namibia, Botswana, Zimbabwe, Zambia, and Lamu), Los Angeles and Toronto with suggestions on where to go and what to see.
Donations are still being accepted at the online charity page. Contributions of $50.00 or more will receive GIRLS' GUIDE TO PARIS ET PLUS digital magazine subscriptions and the chance to win a copy of Jamie Cat Callan's book Ooh La La: French Women's Secrets to Feeling Beautiful Every Day.
For a $50 donation to support Ubuntu, a one-year subscription will be offered as a gift: (https://www.everribbon.com/ribbon/view/14327 http://girlsguidetoparis.com/subscribe-to-the-girls-guide-magazine/)
Photos of Event can be seen at this link: http://www.flickr.com/photos/lianamf/sets/72157636298443503/
For further information on the event and brands: Pikke Allen, ARTIFICE ATELIER. http://www.artifice-magazine.com E: pikke(at)artifice-atelier(dot)com.
For magazine subscriptions or interviews please contact:
Liana Felt , Assistant Editor Girls' Guide to Paris
E: assistant(at)girlsguidetoparis(dot)com
For Advertising Inquiries please contact:
Kathryn Brown, Business Development Girls' Guide to Paris
E: Kathryn(at)girlsguidetoparis(dot)com