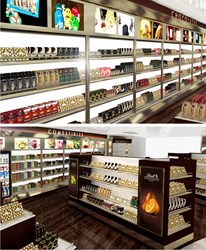 New York, NY (PRWEB) October 09, 2013
Open D Group is pleased to announce their contribution to Bernabel Trading's Bequebus ferry travel retail concept which was inaugurated on September 30th in Buenos Aires with the name Francisco after the Pope. Open D Group designed the Rio de la Plata Duty Free store for the Francisco, which will be the largest store on the River Plate ferry route once the vessel enters service. At 1,200 square meters, the store designed by Open D Group is five times the size of Bernabel's largest existing store, and includes an entire Perfumery store and podiums for beauty goods, a relaxation and spa stand, wine and spirits tasting bars and extensive brand placements.
The Director of Bernabel, Martin Laffitte, tells The Moodie Report that, "At last this will give us the chance to display a really extensive range of merchandise, and create a new concept of an onboard store." Laffitte's comment demonstrates just how Open D Group developed a new vision for their client while ultimately re-shaping the retail experience for consumers in an innovative way.
About Open D Group
Open D Group USA is a global design agency that offers clients new visions of their brand through its deep roots in design disciplines and retail architecture services. Laurant Caucé founded the group in Paris in 2002, and in 2005 Martin Mirmand and Gregory Fuller joined Caucé. Today, Open D Group is composed of 170 employees and together they shape the courses of branding, marketing and retail industries.
Spanning over 20 countries with employees working in Paris, Geneva, Dubai, Beirut, Singapore, Hong Kong, Shanghai, and New York, Open D Group has established an international network. This network enables Open D Group to help clients deliver their content and messages in a ground-breaking, enticing, yet practical way. Open D Group's motto of "Think Globally, Act Locally" illustrates their ultimate goal, which is to provide custom solutions and ideas for brands who wish to capture and influence an audience.
About Retail Access
Retail Access, a division of Open D Group, with deep brand, consumer and communication understanding, focuses on merchandising and retail strategies. The group believes in creating exclusive in-store experiences to accentuate unique product offerings. This requires a combination of factors that include easy navigation, proper placement of products, accessible information about offerings and a friendly ambience. Finally, the check-out process must also be easy in order to leave a lasting impression that can ensure repeat business and customer loyalty.
Philippe Magentie
Open d Group
General Manager
pmagentie(at)opend(dot)us