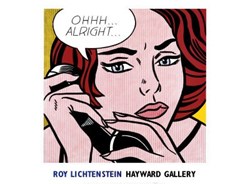 Delray Beach, FL (PRWEB) October 09, 2013
BandagedEar.com is proud to expand its inventory of Roy Lichtenstein art prints. Lichtenstein's art was inspired by advertising and comics. Vibrant colors and his distinctive artistic style propelled the artist to stardom. Lichtenstein paintings now hang in galleries and museums worldwide.
The marketing director at Bandagedear.com, Vanessa Smith, said, "Roy Lichtenstein's artwork continues to serve as inspiration for today's modern artists. Lichtenstein art prints add a pop of color to any space and make a perfect addition to any room with modern decor. As we improve our product offerings, BandagedEar.com will regularly add art prints from other popular artists to our online retail store."
In addition to a wide variety of high-quality art prints and posters for sale, BandagedEar.com also specializes in framed art prints. Millions of different framing configurations are available for all products. Customers can customize any art print available on the website to match a room's decor.
About BandagedEar
BandagedEar.com is an extensive online wall art gallery and community site where art lovers can shop from among thousands of carefully selected art prints and posters. In addition to high-quality art prints, BandagedEar.com offers free tools to help customers discover new art and artists. A custom frame shop allows customers to choose a high-quality custom frame, which typically costs less than local frame shops. Choose from among millions of different configurations by specifying the frame, matting, cropping and glazing. All purchases are backed by a 100% satisfaction guarantee.