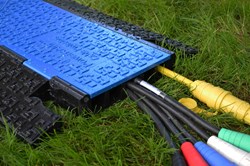 Mike Scala, President of Lex Products Corp., said, 'Being in the business of portable power distribution, it only makes sense that we provide a means to lengthen the life of the cables and hoses used with our products.'
Shelton, Connecticut (PRWEB) October 08, 2013
Lex Products has introduced the PowerRAMP™ Crossover Cable Protection System. The Crossover Cable Protectors deliver durability, safety and convenience with quality construction and materials designed to stand up to pedestrian and heavy vehicular traffic while protecting electrical cables and hoses.
The Crossover Cable Protectors' non-conductive materials, exclusive tread design and heavy-duty polyurethane construction safeguard the integrity of cables and hoses. PowerRAMP products are ideal for indoor or outdoor industrial and entertainment applications, and include 5-channel crossovers, 45˚ left and right turn units and end boots for optimum design flexibility.
"Being in the business of portable power distribution, it only makes sense that we provide a means to lengthen the life of the cables and hoses used with our products," said Mike Scala, President of Lex Products Corp. "The Crossover Cable Protector System is designed to do just that. The enhanced durability and UV stabilized base and lid extends the life of these units so they can continue to protect cables and hoses in use at various locations, including high-traffic areas and outdoor applications."
Enhanced Durability and Quality Construction:
PowerRAMP Crossover Cable Protection System components deliver enhanced durability due to unique design and quality construction. A two-part polyurethane compound process creates a sturdy lid and base that can withstand heavy traffic with a load capacity of up to 32,600 lbs. per axle. The materials are UV stabilized to sustain strength for extended outdoor use in harsh conditions.
Whereas some cable protectors can be difficult to connect and disconnect, PowerRAMP's rugged industry standard connectors feature a proprietary "slip notch" friction release design for easy mating and un-mating of connectors. PowerRAMP crossovers, left and right turn units and end boots are compatible with similar cable protection products of other major manufacturers. In addition, PowerRAMP's four channels can accommodate up to 1.25 inch diameter cables and hoses and a 1.625 inch wide center channel accommodates up to #2 AWG Type SC 5-wire banded cable, unlike some competitive products with smaller channels. This feature allows lids to lie flat over enclosed cables for increased protection and provides an even crossing surface to avoid trip hazards.
Advanced Safety:
PowerRAMP's exclusive tread design provides extra traction for better foothold in wet or slippery conditions and its bright blue lid is highly visible and identifiable. The entire product is made with non-conductive material for extra safety.
Superior Convenience:
PowerRAMP Crossover Cable Protection System components feature an exclusive design that allows for compatibility and trouble-free mating with cable protectors of other manufacturers using similar connectors. Crossovers can be easily interconnected to protect cables of any length or mated with 45˚ left and right turn units and end boots for design flexibility. Convenient handle cut-outs are molded into the back side for easy portability.
Customization Available:
For customization, company names and logos can be molded into lids for easy identification and theft deterrence. Additional colors are available with minimum order and extended lead times.
For more information, visit http://www.lexproducts.com or call 1-800-643-4460.
About Lex Products:
Lex Products Corporation is a leading manufacturer of innovative power distribution and control systems for demanding markets, including entertainment, industrial and the military. Founded in 1989, the company specializes in portable power systems including distribution boxes, cable assemblies, cable protectors and other products, designed to withstand rough use and harsh environments. Lex Products is ISO 9001:2008 certified for all production, operations and support services across its three U.S. facilities.
Headquartered in Shelton, Connecticut, the company also has offices in Sun Valley, California and the United Kingdom. In 2012, Lex Products ranked 77th in the Manufacturing segment on Inc. Magazine's Inc. 5000. For more information, visit http://www.lexproducts.com or call 1-800-643-4460.