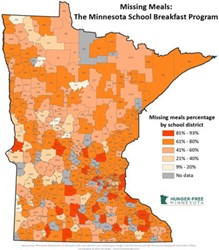 Making school breakfast universal or part of the classroom experience are proven ways to improve participation by all students.
Minneapolis (PRWEB) October 08, 2013
Hunger-Free Minnesota announced today that it is launching a statewide School Breakfast Challenge to increase participation in the School Breakfast Program among low-income Minnesota students. The School Breakfast Challenge will be launched with a ceremonial event held at Pillsbury Elementary School on October 9, 2013 at 7:00 a.m. Lieutenant Governor Yvonne Prettner-Solon, Minneapolis Public Schools Associate Superintendent Michael Thomas will speak at the event. Financial support for the School Breakfast Challenge comes from the Midwest Dairy Council and the Children's Defense Fund of Minnesota is an implementation partner.
"We are honored to work with Hunger-Free Minnesota and Minnesota schools to ensure that students are able to start their days with healthy and nutritious meals," said Lisa McCann RDN, Midwest Dairy Council. "Improving school breakfast programs can help move the needle from hungry to healthy."
Hunger-Free Minnesota will provide a $0.10 per meal (up to 25,000 meals) incentive during the 2013-14 school year to 30 selected schools that increase their school breakfast meals served to free-and reduced-price (F/R) eligible children over the prior school year. All schools who apply are eligible to win a free giant flat screen television for their school! More information and the application are available at: http://hungerfreemn.org/minnesota-school-breakfast-challenge-application.
Low-income Minnesota children miss 29 million school breakfasts annually. Low utilization of free and reduced-cost meals from the Minnesota School Breakfast Program is widespread across school districts. Overall usage is only 40 percent. Two recent research studies, by Deloitte/No Kid Hungry and the National Dairy Council, demonstrate that children who start their day with a nutritious school breakfast have a better attendance record, higher math test scores, and improved graduation rates. Surveys of schools teachers by No Kid Hungry also overwhelmingly show that school breakfast works to keep kids focused, behaved, and learning. The School Breakfast Challenge is part of Hunger-Free Minnesota's School Breakfast Initiative, which aims to add 4 million new meals served by school breakfast programs.
"Based on our collaboration and research with the Children's Defense Fund of Minnesota, Hunger-Free Minnesota is offering both guidance and financial support to increase school breakfast participation," said Ellie Lucas, chief campaign officer for Hunger-Free Minnesota. "We know that hunger negatively impacts school performance and believe that closing the gap on school meals should be a priority for all schools."
Last year, Hunger-Free Minnesota worked closely the Children's Defense Fund of Minnesota and Minneapolis Public Schools (MPS) to improve participation in school breakfast. Research revealed examples of new successful models that make it easier for children to access school breakfast each morning include Breakfast in the Classroom and Grab n' Go. Minneapolis Public School's has received a grant from Hunger-Free Minnesota, which will allow them to adopt "breakfast in the classroom" in 12 new MPS schools this fall.
"We found that there are many students from low-income households who need breakfast but do not participate due to a number of reasons including time limitations, transportation and stigma," said Peggy Flanagan, Executive Director of Children's Defense Fund. "Making school breakfast universal or part of the classroom experience are proven ways to improve participation by all students. By assisting schools in their efforts to increase the number of breakfasts they serve, our overarching goal is to address child hunger."
More information on school breakfast models can be found at: http://hungerfreemn.org/initiatives/school-breakfast/.
School Breakfast Initiative Partners

Hunger-Free Minnesota
Office of Lt. Governor Yvonne Prettner-Solon
Minnesota Department of Education
Midwest Dairy Council
Children's Defense Fund of Minnesota
General Mills Foundation
About Hunger-Free Minnesota
Hunger-Free Minnesota is a time-limited campaign to close the 100 million missing-meal gap in Minnesota. Among its partners and supporters are community leaders and citizens, nonprofit agencies and organizations, food banks, food shelves, and corporations. Research partners include The Boston Consulting Group and EnSearch, Inc. Hunger-Free Minnesota's strategic action plan focuses on emergency food system capacity, the Supplemental Nutrition Assistance Program (SNAP), and child hunger and nutrition. The campaign encourages individuals and organizations to "Fight Hunger Where You Live." More information is available at http://www.hungerfreemn.org.