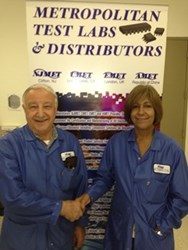 Clifton, NJ (PRWEB) October 08, 2013
Joseph Federico, VP and Director of NJ MET Inc. Clifton, NJ, announced the celebration of Quality Inspector Genoveva Valentin's 25th anniversary of employment with the company.
Mrs. Valentin came on board in January 1987 as a Process Operator and moved into NJ MET's Quality Management department assisting with Incoming and Final Inspection duties. Over the years, Genny continued to increase her responsibilities in NJ MET's Quality Inspection area. Today, she is the Lead Inspector for NJ MET's Mission Imposter Risk Mitigation program. NJ MET's Mission Imposter Risk Mitigation program uses multiple testing methodologies to detect and identify counterfeit electronic components. As Lead Inspector in detection of suspect electronic component products, she works directly with NJ MET VP and Director of Operations, Joseph Federico.
"It has been a great pleasure working with Genny throughout the years. She has been a dedicated colleague and is a dear friend," said Joseph Federico from NJ MET's Clifton, NJ headquarters.
Mrs. Valentin was presented with a commendation plaque congratulating her on 25 years of loyalty and friendship at a luncheon in her honor which was attended by her fellow employees.
For more information on NJ MET Inc and its electronic test laboratory capabilities including its Mission Imposter Risk Mitigation Program, please call Joseph Federico at NJ MET's headquarters in Clifton NJ @ 973-546-5393. Learn more about all of NJ MET's testing capabilities at http://www.njmetmt.com.