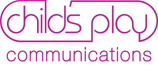 We are delighted to be working with Romotive and are looking forward to building national awareness for Romo, the smartphone robot. - Stephanie Azzarone, President, Child's Play Communications
New York, NY (PRWEB) October 08, 2013
Child's Play Communications, the award-winning public relations agency specializing in reaching moms, has announced the addition of Romotive Inc. to the agency's client roster. Romotive is the innovative company behind Romo, a pioneering personal robot designed to teach children the basics of computer programming and robotics in a fun and engaging way.
"We are delighted to be working with Romotive and are looking forward to building national awareness for Romo, the smartphone robot," noted Stephanie Azzarone, President, Child's Play Communications. "It's a joy to work with brands that promote entertainment and education in such an innovative manner."
"Romotive is looking forward to partnering with Child's Play Communications to grow awareness of our brand among consumers," said Keller Rinaudo, CEO and co-founder of Romotive, which is dedicated to making personal robotics accessible to everyone. "Child's Play's expertise in reaching moms will help us realize our goal and drive demand during the crucial holiday shopping period."
Using an iPhone or iPod Touch as his brain, Romo puts highly advanced robotic technology in the hands of everyone. After downloading Romo's free app from the App Store, kids can journey with him across the galaxy, playing challenging missions which introduce the simple concepts behind the programs and software that run our technological world.
In addition to being a fun and engaging way to teach computer science, Romo is an advanced communications and control device. With Telepresence, friends and family can call Romo from anywhere in the world, enabling simultaneous video conferencing and robot remote control. Romo can also be controlled via Wi-Fi from any iOS device, allowing users to direct his dynamic facial expressions, while sending him on journeys around the house. Romo learns to rove, follow faces, respond to touch and commands, follow paths and even chase moving objects. His abilities and features expand over time as kids find endless ways to play and learn with him.
Located in New York City, Child's Play Communications specializes in public relations, social media and word-of-mouth communications for products and services targeted to moms.
Child's Play Communications
Child's Play Communications specializes in public relations, social media and word-of-mouth communications for products and services targeted to moms. Based in New York City, the award-winning agency has launched an exciting array of proprietary services to engage this influential market through traditional media, online and in-person, including Team Mom™, the agency's own network of mom review-bloggers. For additional information, please visit our Web site at http://www.ChildsPlayPR.com, our blog, like us on Facebook, or follow us on Twitter or Pinterest.
###