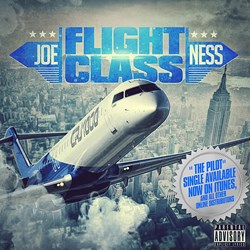 I plan to give my fans the missing 'over your head punch line' from Hip Hop, the Bar that makes you do the 'Ugly face' & 'Rewind It.', making it my profession there is something for every listening ear.
Brooklyn, NY (PRWEB) October 07, 2013
Coast 2 Coast Mixtapes announce the release of the "Flight Class" Mixtape by Joe Ness. The 16 track project is currently available for download. The mixtape features production from Duck Dodger, D.King, and Dez Beats.
Joe Ness is a rapper straight out of Brooklyn, NY. Musically inclined since the age of 7, Joe would wake up early in the morning to play his favorite songs. Joe, fascinated by the art of music, connected with his creativity and developed his passion for lyricism in Junior High school, participating in his school's Poetry clubs.
Joe started really developing his craft at the age of 12, trading rhymes while battling his cousin. By age 15 Joe had already released his first single, "Oh Well", which quickly grabbed the attention of his peers who deemed him "Infa" short for "Infamous". Joe's validation as an artist at such a young age provided him the motivation to establish his music career goals early pushing him to perform and record throughout his High School years.
Joe Ness aka The Pilot, refuses to not be heard; mastering his fly, flashy, slick, metaphorical flow attracting new fans by thousands. Joe has shared that stage with the likes of Pusha T, Joey Bada$$, and Biz Markie performing at top events and venues around New York such as College fest at Downtown Brooklyn College and the historical "Club Pyramid". Joe also believes in giving back to his community; Joe says: "Without the community support, I wouldn't be here. The fans support me in what I do, so I show my appreciation by giving back and making great music."
Joe Ness' "Flight Class" mixtape has taken off, surpassing over 1,000 downloads in the first couple of days. "Flight Class" is an extremely well-produced and relevant mixtape that matches the modern flows, provocative beats, and exceptional flows found on many of today's radio rap records. Joe displays his diversity with songs like "Art of Flyin", "Pilot Gang", and "Snakes On A Plane" which provide the spectrum of sounds and flows from Drake style hooks to Chopped and Screwed samples to Kendrick influenced lyricism. If you are looking for a well-produced, well rounded mixtape where ever song sounds like it belongs on the radio; this is the mixtape for you. For more information on Joe Ness check him out on his official website, JoeNess.com.
About Coast 2 Coast Mixtapes
Coast 2 Coast Mixtapes are the most widely distributed mixtapes in the world, with over 100 million downloads/plays generated by over 200 volumes officially hosted by major artists. Coast 2 Coast has a solid reach in the new music industry with a digital magazine, DJ coalition, industry tips blog, yearly convention, and more. Coast 2 Coast Mixtapes represents a unique opportunity for artists of all urban genres, from major to indie. For more information, visit http://www.coast2coastmixtapes.com.