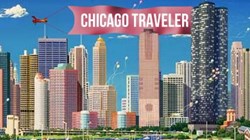 The editors of ChicagoTraveler.com have come up with a list of the best food tours in Chicago.
Chicago, IL (PRWEB) October 15, 2013
Everybody loves food. It's hard to complain while walking through the streets of Chitown, tasting all of the delectable delights the city is famous for, and that's why the editors of ChicagoTraveler.com have come up with a list of the best food tours in Chicago. This is one of the rare occasions that it is recommended to bite off more than you can chew, talk with your mouth full, and undo that top button of those skinny jeans. Pick up a fork and dig in on one of these outstanding Chicago food tours!
Tastebud Food Tours - $44
With options ranging from a desert tour (for those with an extra active sweet tooth), to classic Chicago food tours that sample the best of Chicago's classic meals, Tastebud Food Tours does dining right. The tours include stops at the best food joints in Chitown, and each tour gives a foodie enough spoonfuls to fill up and roll back to the hotel room.
Bikes, Bites & Brews Tour - $49 - $59
Bobby's Bike Hike has the perfect tour for cycle enthusiasts that are looking to work up an appetite. A sampling from the best of Chicago's pizza, hot dogs, cupcakes and a beer will make it hard for stuffed bikers to pedal home! Explore Chicago's popular neighborhoods while tasting the town's prized treats.
Chicago Dine Around - $89
For food fanatics looking to really indulge, the editors of ChicagoTraveler.com recommend Chicago Dine Around. With Hor D'oeuvres at the first restaurant, a main course at the second, and dessert at a third, this food experience is perfect of people looking for a unique (and of course, delicious!) experience.
Chicago Food Planet Tours - $47
With different options to choose from, Chicago Food Planet gives diners the chance to decide what to stuff themselves with. From a Chinese food tour through Chicago's Chinatown, to chow options in other parts of the city, Chicago Food Planet tours are sure to impress.
Chicago Pizza Tours $60 - $80
Pizza, pizza, we love you! And Chicago pizza, it can't get better than that. Chicago is famed for having incredible pizzas, so find out how tasty we're talking on a Chicago Pizza Tour. Chicago Pizza Tours offers an original tour (just pizza), and a Pizza & Cocktails Tour (wet the whistle while chowing down).
About ChicagoTraveler.com:
Chicago is one of the top vacation destinations in America famous for its annual events, popular foods, and architecture and top sports teams. ChicagoTraveler.com guides travelers to all the best things to do, top places to eat and deals on the best places to stay in Chicago.