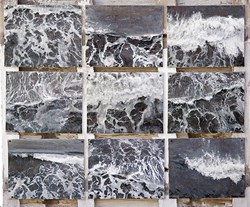 It is a unique opportunity to experience local artists creative environments and personal work.
Venice, CA (PRWEB) October 08, 2013
The Venice ArtBlock event will include over 45 open art studios and special exhibits on Sunday, October 13, 2013, from noon to five o'clock throughout Venice Beach, CA. Free admission, parking, shuttle buses, entertainment and art demonstrations at the various studios. The parking lots are located at Brooks and Main and Sunset and Fifth Avenues. Among the group will be internationally renowned fine art photographer, Helen K. Garber. She will be opening her studio doors to the public for the first time. The studio is located at 801 Ocean Front Walk, 1 block north of Brooks at world-famous Venice Beach.
Ms. Garber has been based in Venice since 1995 and moved to this amazing ocean view studio in 2004. The move inspired her to author the prize-winning, official publication of the 2005 Venice Centennial, Venice Beach, California Carnivale. Her Venice Beach location inspired her to continue producing Venice-themed projects including Venice/Venezia, a comparison of the two world-famous tourist destinations, Venice: Yesterday and Today or still crazy after all these years, diptychs of images from the Venice Historical Society archives and modern re-creations and Conjuring Abbot Kinney, mixed media pieces with encaustic medium.
ArtBlock is an artist run coalition which was created after the Open Studio Tour was eliminated from the traditional route of the annual Venice Art Walk and Auctions. ArtBlock aspires to preserve and expand access to the arts in Venice through the Open Studio tour by giving free, public access to established studios and to many new emerging artist's spaces tucked away throughout the neighborhood.
"This is a long overdue program for all Venice artists to be able to expose their work to our community, to meet each other, and create a more intimate community for all Venice artists."- Emily Winters, Co-founder, Venice Arts Council.
It is a unique opportunity to experience local artists creative environments and personal work, allowing the public to see art where it's made, and to meet and talk to the artists in an informal setting, developing relationships and discovering great local art.
Venice is a city that has been known for its strong support of its artists. As Sandy Bleifer of the ArtBlock says, "Venice has always been such a community with its high tolerance for diversity of origins, ethnicity, ideology, and expressions. Most communities are not this way."
We look forward to hosting a very interesting afternoon.