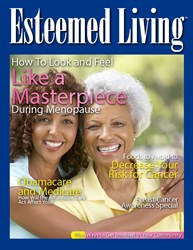 Esteemed Living Magazine covers all the topics that matter most the spry senior community. Informative, Inspiring, Entertaining & best of all, it's free.
(PRWEB) October 10, 2013
Esteemed Living is the newest health and lifestyle magazine for the 50 plus age market that provides informative articles that focus on things that are pivotal to the aging community. The October Edition has topics that focus on women's health as well as the new changes in American healthcare and how these changes affect those on Medicare and those looking for a Medicare supplement.
Esteemed Living is passionate about not only providing vital information, but inspiring readers to think about life in refreshing, more exciting ways. Robin Hampton, Graphic Designer for Esteemed Living states, "Although the content targets seniors, it is widely relevant to all ages, as we all have similar concerns. I found myself reading every article word for word during the design phase. Even if you are not over the age of 50, we all know of someone who is be it a loved one or neighbor. Share this magazine with your loved ones and friends."
Esteemed Living focuses on promoting active and healthy lifestyles in the baby boomer generation. If you are a company looking for advertisement opportunities, Esteemed Living has an audience of 100,000 seniors all over the nation. Contact Scott Steward at for more information.
The October Edition Includes topis such as:

Feeling Like a Masterpiece During Menopause
Obamacare and Medicare: Effects of the Affordable Care Act
Foods to Avoid to Decrease Your Cancer Risk
The latest edition can be downloaded here. Be sure to check out the esteemedliving.com for current and past editions available for free download.
Robin Hampton says, "Our goal at Esteemed Living, is to speak to the desires and needs of the growing Boomer community. The baby boomer community is the most educated, healthiest, wealthiest and most vibrant consumers and because that audience is such a vital part of American culture it is our focus to meet their needs." Visit esteemedliving.com for daily blogs, to see current and past editions of the magazine.
With over 10,000 people turning 65 every day, the baby boomer population is now starting to retire and 1-800-MEDIGAP is here to offer support to the community through valuable resources like Esteemed Living in addition to making make the medicare supplement insurance search less time consuming. Jeff Cline, 1-800-MEDIGAP CEO, states, "Our acknowledgement by the Better Business Bureau aligns with our efforts of providing superior service in the Medicare supplement insurance marketplace."