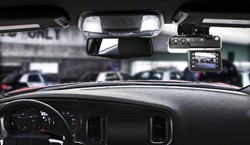 With FUSION, COBAN addresses video quality, department budgets and system size.
HOUSTON, Texas (PRWEB) October 17, 2013
Houston-based in-car video and mobile computing company COBAN Technologies, Inc. announced the release of a new generation of in-car video systems for law enforcement agencies.
FUSION HD is the most compact, affordable high definition in-car video solution available for law enforcement today.
"With FUSION, COBAN addresses video quality, department budgets and system size," said COBAN Senior Vice President of Marketing David Hinojosa. "We understand agencies across the nation are struggling with budgets and we wanted to develop a system that would give them the tools to capture, manage, transfer and store evidence efficiently."
With a growing public interest in video recordings of officers in the field, many police departments are turning to in-car video systems to capture video evidence of incidents to which officers respond. Digital evidence improves accountability, and often helps settle disputes without wasting valuable time and money in court. FUSION HD was designed to affordably deliver these and other benefits of in-car video to agencies of all sizes.
The system features a 4.3" touchscreen monitor, built-in GPS and crash sensor, dual 64 GB solid-state drives and high definition recording, all with minimal installation or setup in the vehicles. FUSION HD was designed to be portable, giving agencies the option to easily move the unit from vehicle to vehicle as needed.
With over a decade in the industry, COBAN has taken feedback from members of the law enforcement community to develop a true purpose-built solution, starting with exceptional video quality. FUSION HD features a built-in snapshot camera and high definition resolution video recording camera. Some systems on the market today require officers to select their video quality based on the event type. FUSION HD takes the guess work out of the officers' responsibilities by offering uncompromised quality with every second of video captured. Agencies now get all HD, all the time. The snapshot camera provides a close-up view of the license plate of the vehicle being stopped. The system can support an additional backseat camera and microphone.
The system includes two solid-state 64 GB drives, eliminating moving parts so the video recording will never skip due to bumps in the road or vehicle vibrations. The internal FailSafe™ drive serves as a backup to the removable drive, continuously capturing footage whenever the system is turned on. This feature allows video to be retrieved days later, even if the system was not in record mode at the time of the event.
FUSION HD features two microphones: one wireless body-worn and one built-in. In addition to the record button, each body-worn wireless microphone features two custom programmable buttons that allow the microphone to serve as a remote control for the FUSION system. The remote control functions range from bookmark or snapshot, to initiate (optional) backseat camera in covert record mode. With over a mile range, the microphone can continuously record 12 hours of audio on a single charge.
The system's hardware has been tested and certified under MIL-SPEC-810G, capable of withstanding extreme temperatures, shock, vibration and other harsh conditions. The system weighs less than 2lbs and features dual installation options, depending on portability needs: a single cigarette lighter power cable, or hardwired into the vehicle for automatic recording triggers. Both options require minimal installation, and can be done by the individual agency in minutes per vehicle.
FUSION HD is a true turnkey solution. Based on each agency's storage requirements, Fusion HD systems are shipped with a pre-configured back-office management server. The management server is powered by COBAN's robust back-office software, which allows departments to meet their individual needs. All activities are logged to ensure proper documentation of evidence handling.
Once the system is configured based on the department's policies and procedures, the videos are automatically retained, expired or burned to DVD using the integrated DVD burning function.
COBAN is also introducing a new Rapid Exchange program, guaranteeing minimal down time for vehicles in the event of a FUSION system error. If the system signals a problem that COBAN's technical support cannot resolve over the phone, administrators can simply remove the system from the vehicle, ship it to COBAN, and expect a replacement the next day.
FUSION HD will be spotlighted at the COBAN Technologies booth #625 at the 2013 IACP Conference. Those interested in a demo or more information are encouraged to contact COBAN's Sales Department at isr(at)cobantech(dot)com or (281) 925-0488.
About COBAN Technologies, Inc.
Since 2002, COBAN Technologies, Inc. has been developing in-car video and mobile computing systems for law enforcement agencies across the country. Our unique in-car video, interview room, Automatic License Plate Recognition, Digital Property Manager, Automatic Vehicle Locator, and back office Digital Video Management Solution system s provide a complete digital solution. COBAN is headquartered in Houston, Texas, with satellite facilities located throughout the United States.